120+ Best Halloween Instagram Captions for Boo-tiful Family Photos
Life is gourd. Eat, drink, and be scary.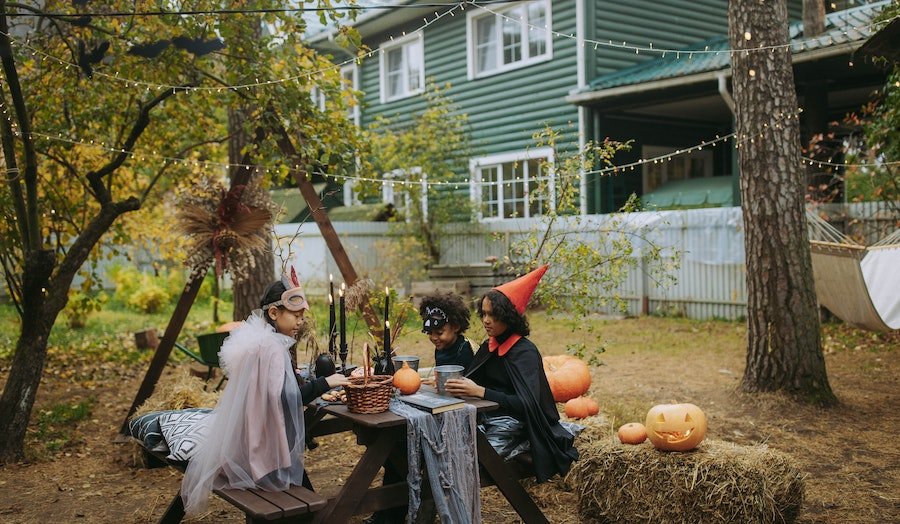 Every year, you put so much time and energy into finding and perfecting your family's Halloween outfits — even more if you DIY costumes —it's no wonder you take a million photos before your kids run away to knock on every front door in sight. After hours of visiting every house in the neighborhood (and carrying your little ones when they've decided they've had enough walking — but not candy), there's any easy way to make sure your Halloween photos don't get lost in your phone camera graveyard! Your kids look so darn stinkin' cute, so naturally, you need a great Halloween caption to go with all the photos (or IG Reels) you plan to post. Whether you're looking for spooky or funny Halloween captions, or ones filled with emojis, these are the best Halloween captions to use in 2022...
And after all that time spent on Halloween costumes and decor, it's no wonder your camera roll is filled with cute shots of your family in-costume (and pictures of those pumpkins you spent hours carving). Don't let those pics get lost in your phone, print them in a Halloween-inspired photo book. And if you love saving your favorite memories from every month, print 30 pictures each month with a Monthbooks subscription.
Sweet Halloween Instagram Captions
No tricks, just treats!
Extreme makeover
What's up, pumpkin?
He's a handsome little devil
Mons-terrific
Double, double toil and trouble!
Bad to the bone
Are you afraid of the dark?
Don't make me get the flying monkeys
Clothes make a statement. Costumes tell a story
Something wicked this way comes
Mischief managed
Everything's better with a little magic.
No tricks, just treats!
New face, who 'dis?
Keep calm and scare on
This is where the magic happens
Why did the black cat cross the street? To give you bad luck!
Let's get spooky
Caution! Black cat crossing
Too cute to spook.
Be witched!
Creature feature
Hey, boo-tiful
This witch can be bribed with chocolate.
I put a spell on you, and now you're mine
I don't celebrate Halloween, I am Halloween
Funny Halloween Instagram Captions
Howl about them apples?
Psst...This isn't a costume
Brrr… it's cold in here. There must be some spirits in the atmosphere!
I'm here for the boos
Never fully dressed without a wand
Swish swish, witch
Creepin' it real!
Shake your BOOty
Resting witch face
Only bad witches can drive stick
Too ghoul for school
Not going to eat candy? That's witchful thinking
Hocus Pocus and chill?
Ghostest with the mostest
Ready, set, ghoul!
If the broom fits, fly it
You look better with the mask on
You make me batty
Truly fa-BOO-lous
Can I witch a ride? My broomstick broke
I'm a haunt mess
Who runs the world? Ghouls
Bugs and hisses, witches!
You better work, witch
Demons are a ghouls best friend
I only have pumpkin pies for you
Get in, loser. We're going haunting
Hot ghoul Halloween
Bow down, witches
If you've got it, haunt it
Fangs for the memories
Not every witch lives in Salem
Family Halloween Instagram Captions
Ghouls just wanna have fun
With the boo crew
#SquadGhouls
Life is gourd. Eat, drink, and be scary
Had a spooktacular night!
Life is gourd
Too gourd to be true
Have a fang-tastic night!
I can't be held responsible for stolen candy
Having a bloody good time
Keep calm and carry a wand
Boo from the crew
Hey, pumpkin!
Eat, drink, and be scary!
Halloween Quote Instagram Captions
"I'm so glad I live in a world where there are Octobers." —Anne of Green Gables
"Use iodized salt to ward off witches, zombies, and old boyfriends." —Hocus Pocus
"It's showtime." —Beetlejuice
"It's Halloween; everyone's entitled to one good scare." —Halloween
"There's only 365 days left until next Halloween!" —The Nightmare Before Christmas
"Let's turn on the juice and see what shakes loose." —Beetlejuice
"You are too precious for words, why I could just... eat you alive!" —The Addams Family
"We've all got both light and dark inside us..." —Harry Potter
"If you've got it, haunt it." —Rose Pressey
"Isn't the view beautiful? It takes my breath away. Well, it would if I had any." —Corpse Bride
"They're creepy and they're kooky, mysterious, and spooky." —Andrew Gold
"It's alive!" —Frankenstein
"I am beautiful. Boys will LOVE me!" —Hocus Pocus
"Have you come to sing pumpkin carols?" —It's the Great Pumpkin, Charlie Brown
"Being normal is vastly overrated." —Halloweentown
"I would like, if I may, to take you on a strange journey." —Rocky Horror Picture Show
"It's a full moon tonight. That's when all the weirdos are out." —Hocus Pocus
"Couldn't you forget about being a cool teenager just for one night?" —Hocus Pocus
"Wanna play?" —Child's Play
"When black cats prowl and pumpkins gleam, may luck be yours on Halloween." —Unknown
"I always feel like somebody's watching me." —Rockwell
"Magic is really very simple, all you've got to do is want something and then let yourself have it." —Halloweentown
"It's all just a bunch of hocus pocus!" —Hocus Pocus
"I'm a mouse, duh." —Mean Girls
"Trick or treat, bag of sweets, ghosts are walking down the street." —Unknown
"I'm a ghost with the most, babe." —Beetlejuice
"Double, double toil, and trouble." —William Shakespeare
"I am the pumpkin king!" —The Nightmare Before Christmas
"Oh look, another glorious morning. It makes me SICK!" —Hocus Pocus
"No, please don't kill me, Mr. Ghostface, I wanna be in the sequel!" —Scream
Funny Halloween Emoji Instagram Captions
I'm the 👑 of Halloween
'Til 💀 do us part
Sorry I'm ⚰, I have a cold
I'll never 👻 you
🐝yonce
He's trapped in my 🕸
I need to be home before midnight...👠🎃
You're 💀 to me
Here for the b👻👻ze
H🌕wling at the m🌕🌕n
Family Halloween Photo Emoji Instagram Captions
We trick or treat, 🌧 or ☀️
We have a new 🎃 in the patch!
#Twinning 👯
Best costume 🏆 goes to...
H🎃ppy H🎃lloween!
Who you gonna 📞? 👻busters!
🦁🐯🐻, oh my!