33 Funny Christmas Photo Ideas the Whole Family Will Love
Get ready to LOL with these creative and funny holiday photo ops.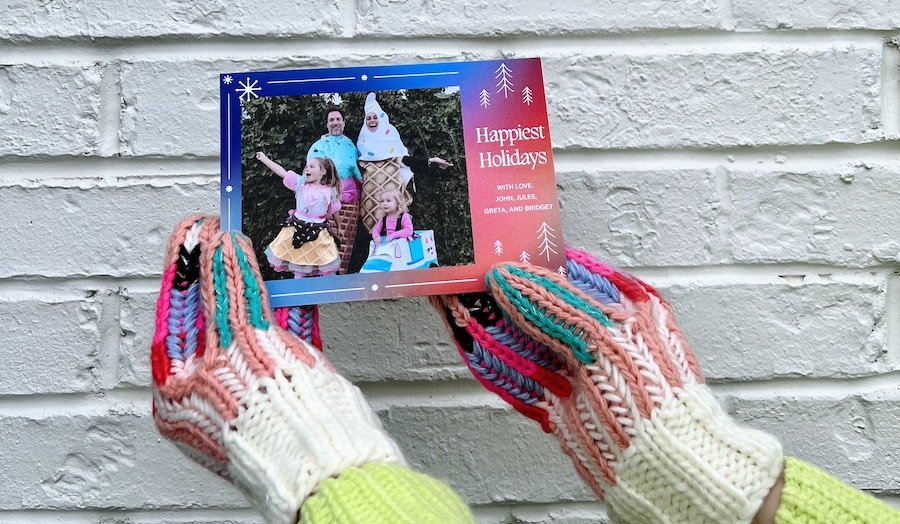 There's so much to do when it comes to the holiday season. Are gearing up for a winter you'll never fir-get? From decorations to holiday cards, your list is longer than Santa's. Whether you want to get a chuckle out of your holiday card, photo book or Christmas morning Instagram, there's plenty of ways to create a comical Christmas photo. You may need a timer (and a makeshift tripod!) for some of these, but you may just start an annual tradition your family loves.
And after all that time spent on finding the right holiday cards and presents, and time spent at parties and around the table with friends and family, it's no wonder your camera roll is filled with sweet shots of you and your family (especially after it took you 10 minutes to get the perfect shot). Don't let those pics get lost in your phone, print them in a holiday-themed photo book (print them in a high-quality Layflat photo book and add blank text pages to create a personalized gift), or hang them on your wall with Canvas Wall Tiles. And if you love saving your favorite memories from every month, print 30 pictures each month with a Monthbooks subscription.
Funny Christmas Photo Ideas
Have the kids wrap Christmas lights around the parents and pretend to pull from both ends, like tug-of-war!
Put Christmas hats on the family (and a pair of antlers on the dog), then snap a photo while the family is stealing presents and taking ornaments and other festive decor off the tree to shove into a giant bag.
Recreate the iconic poster for this movie by dressing one family member up in a full Santa outfit, then wrap them in Christmas lights and have other family members holding items like Christmas presents in the background. Then, have your Santa pose like the lights are shocking them — just like the poster!
Give your kids a holiday cookie recipe and give them free reign of the kitchen! Snap photos when things go awry, like when the flour goes everywhere, egg shells hit the ground and the kids eat the frosting before the cookies can be decorated.
Get crafty for this photo! Cut big circles of cardboard or poster board (or any material you have in your house) with holes so your family can fit the large circles around their heads. Write something funny on the front, or snap a photo of everyone competing to climb on the Christmas tree for the best spot.
If your family loves watching A Christmas Story every year, you might have certain props on hand, like the leg lamp, a BB gun and a pink bunny getup that'll make for the perfect movie recreation.
Place a Santa hat on each of your kids and pose them in funny spots around the house, just like you would with an Elf of the Shelf! Create a collage out of the photos for a truly funny Christmas card!
Whether you've just purchased your Christmas tree, or pulled your faux tree from storage, get a picture of your family trying to squeeze the tree through the door before setting up. Show two people on each end playing tug-of-war, one person laid out on the ground beneath it and another eating Christmas cookies and pointing instructions.
Place a plate of cookies and milk on a table in front of your Christmas tree (and make sure you can see all the presents and decorations), and have one of your kids pose like they're stealing Santa's treats while your other kids (and pets) look up the chimney or out the window for Saint Nick.
Give your kids a few different items, wrapping paper, tape and ribbons and tell them to get wrapping! Snap a hilarious picture of your little ones trying to figure out how much wrapping paper they need to wrap a stuffed animal.
If you have a cat or dog, give them a Santa hat or some reindeer antlers, then gently tie a ribbon (or a small ornament on a ribbon) around their collar or tail. Then, tell your kids to give chase! (Remind them not to pull the ribbon off your family pet.)
Dress your kids in seasonal outfits and Santa hats, then line them up across a table with toys and fake tools (or real ones, with supervision) to create a fake Santa's Workshop! Give them items that would be comical to find elves building, like a Keurig or wine bottle.
Have your little ones sit on the floor and wrap them in holiday lights. Then, tape pieces of paper over their mouths with the words from Silent Night for a good laugh! (Is a silent night on your Christmas list?!)
Take a long piece of ribbon or tape and place it on the floor, running down the center of the room (make sure your Christmas decorations are in the background). Then, place a piece of paper saying "naughty" on one side, and another that says "nice." Put your kids on one side and your family pet on the other — we'll let you decide which!
If you have a little one with a tiny car, dress them in some seasonal or winter gear and add a wreath or little tree to the front or top of the car, so it looks like they just picked out a tiny Christmas tree!
If you've seen the movie Elf, you know the main character loves to slather syrup on everything — even spaghetti. Recreate the iconic scene with plates of spaghetti for the whole family, and snap a photo of everyone as they fight over the syrup bottle.
Toddlers are known for making some of the best faces. Dress your tot in their Christmas jammies and sit them down with a classic holiday storybook. Snap a photo as they scrunch up their face (or make another comical expression) and attempt to read on their own.
Dreaming of a White Christmas
Take a photo of your family asleep on the couch in front of your Christmas tree and add small air bubbles with funny dream-like thoughts, like "Can I eat Santa's cookies?" or "What do reindeer eat?" for a unique family card.
Find cardboard boxes each of your family members can squeeze (at least squat) into, then wrap the outside in wrapping paper. Make sure everyone's wearing Santa hats or ribbons on their heads and use the timer to take a photo of everyone popping out of their boxes as if they're presents.
If you have a pet and some mistletoe, this one's for you. Hang mistletoe from a doorway where parents can kiss, then either hang mistletoe in a lower spot nearby, or have one of your kids hold it above their sibling and the family pet. Whether your kid makes a funny face or gives your furry friend a smooch, it'll be a photo to remember!
If you take your kids to visit Santa in the mall every year, dress them up as... Santa! How funny will it be to have a photo of your kids, dressed as Santa, on Saint Nick's lap?! Dressing up as Kris Kringle's reindeer also works!
Write a long Christmas list on a chalkboard, or have one of your kids hold the list facing the camera, and be sure to add items to the list that become increasingly funnier. Start with basics like LEGOs and end with wishes like your kids' dreams for "a dog that speaks."
Head back in time with ugly Christmas sweaters and awkward poses. If you have scrunchies, a fake moustache and huge glasses, even better! (Pro tip: Putting fake moustaches and glasses on your kids will make for many laughs.)
If your family's expecting a little one sometime after the holiday season, snap a picture of mom going belly-to-belly with Santa (either at the mall, or as someone else dressed as Santa Claus).
Not camera ready? No worries. A simple silhouette-styled photo gives a creative touch to a classic family picture. Have the family jump or strike funny poses to turn this simple concept into a funny one. Bonus: It doesn't matter how many eyes are closed! 😉
Is there anything better than matching holiday PJs? With plenty of options in just about every store, you are sure to find something to fit everyone in the family. Even the beloved pets might be able to get in on the twinning action! Go for funny elf pajamas to make this look come to life.
"Mirror, mirror on the wall, who is the most festive family of them all?" Pose in front of a large mirror to capture the whole family's reflection. Tell everyone to make silly faces for a hilarious holiday card.
Is one child crying? Is another refusing to pose as directed? That's ok. In fact, it's perfect! Capture your real life and add it to your holiday card. Your funny family moments are sure to shine here.
Use an oversized picture frame to use in your holiday photo. Visit your local thrift shop, remove the framed image, paint the surrounding frame (if needed) and snap away! This is a cute way to nail a goofy holiday photo.
Use a chalkboard background to embellish your family photo. Add snowflakes, draw reindeer antlers above your heads or add a funny famous quote. If you are really brave, have your kids decorate the backdrop and then take your photo.
Take advantage of your local tree lot. While picking out your evergreen, take the whole clan and snap a few candid pictures between the rows of balsam firs. Ask the kids to play hide and seek amongst the trees for some sweet and silly photos.
A creative way of showing holiday cheer is with oversized letters. Bring along some block letters to spell out a funny saying and hold them during your photoshoot.