The Ultimate Planning Guide for Your Dream Family Reunion
We are family, I got all my sisters, brothers, cousins, aunts and uncles with me!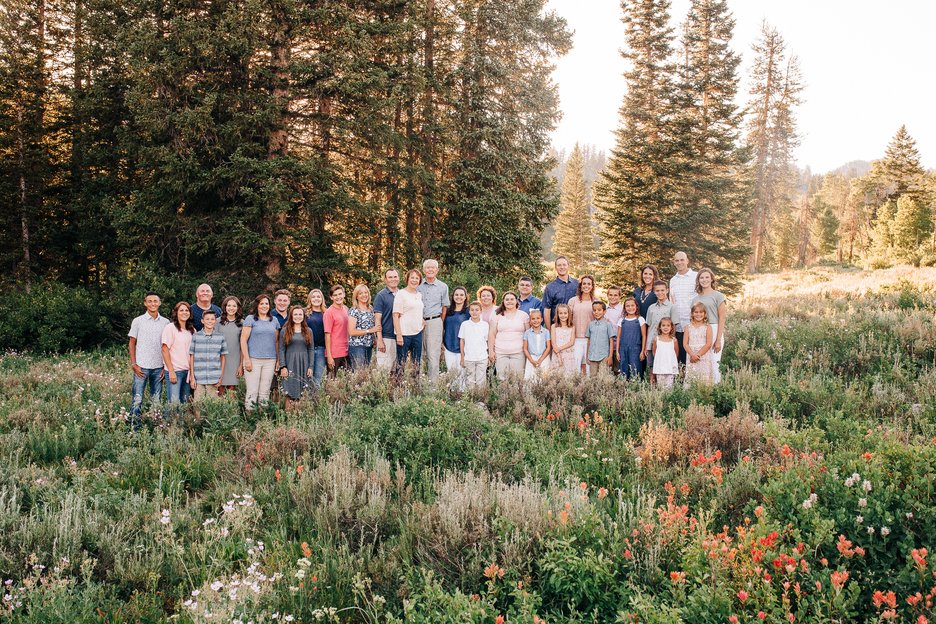 Between dance recitals, soccer practice, tutoring and other important activities, it can be hard to pencil in quality family time. Throw in grandparents, aunts, uncles and your gaggle of cousins (yes, even the ones you haven't seen since they wore pigtails), and a family reunion can seem daunting (if not impossible). If you're looking for ideas to plan the ultimate family reunion, this guide is chock full of ideas and questions to ask before making your family reunion checklist. It may seem overwhelming at first, but we've pulled together tips, tricks and expert advice to help you pull off your dream family get-together!
And after all that planning, you'll want to capture every memory when your family finally meets up. Be sure to create a shared album (or designate a family photographer) so you can safely preserve all your memories in a family reunion photo book! Print out copies for each family member, or add them as a contributor to your project in the Chatbooks app so everyone can upload their favorite pictures. Add captions or text pages with your favorite memories, too, and choose a Designer Cover that fits your family's style.
Not sure how to plan a family reunion? Here's where to start: Timing is everything, and the more time you have to plan (and wrangle answers out of your busy family members), the better. Planning early gives you time to ask questions, find the right location and figure out how many people are involved in both the reunion itself and the decision-making.
This is your time to figure out how decisions will be made (does majority win, or must everyone agree?), like if each family should designate one person to communicate, or anything else your family needs. According to New York Times bestselling author Marie Bostwick, "Ideally, you should begin planning your reunion at least six months to a year in advance. The first task you need to tackle is choosing a date." She recommends sending out an initial message with several potential dates so family members can rate their preferences.
For parents of little ones, preparation for travel is key, especially if they have a fussy toddler. Not sure if it's worth the hassle of traveling with your little ones? Whether or not they'll remember your family reunion isn't the most important part of the experience, says Jessica Gee of the Bucket List Family on the MomForce Podcast. "It's that family time, trying new things and getting out together that I think they'll remember… they'll remember the quality time and things that they learned."
Finding a place to easily communicate with every member of your reunion can be hard — email chains, Facebook event pages and regular group texts just don't cut it. People don't get notifications, or they go off-topic and before you know it, your group chain is discussing the score of the football game and not your upcoming family reunion.
The best place to plan your reunion — and the best place to message your family members (anyone from your twin sister to your second cousin once removed) is with HeyFam, a group messaging app that lets you create different rooms to organize topics, so your conversations don't get lost within one thread. You can add photos, gifs and reactions, but most importantly, you can organize specific topics like "Ramirez Family Reunion," "Team Food + Drink" or "Ramirez Family T-Shirts" and only the family members that need to discuss that topic will be invited to that room.
HeyFam is easily accessible for everyone in the family — from Grandma to your Gen Z cousin — and is super easy for you to keep track of every important decision and message.
Once you have your schedule, it's important to discuss your budget for the event (especially if you're going to a destination or there will be any hotel stays), including lodging, food, favors, games and more. Be sure the event is affordable for every relative (a potluck is always a good idea!).
If budget is a concern, "Make the main reunion event something that is affordable for everyone — perhaps a backyard barbeque or picnic in the park," suggests Bostwick. "You can also offer options for add-on activities, extra days, or side trips — a sort of smorgasbord of choices — for those who can afford to spend a bit more time and money on the reunion."
Clarifying Responsibilities
There's a lot of responsibility that comes with organizing a family reunion, including lots of important jobs that need to be done, like cooking, sleeping arrangements and more.
"As soon as possible after choosing the date, send out another note asking for volunteers to help organize and execute the big event," says Bostwick. "Create a list of different areas of responsibility –— food, invitations, decorations, name tags and souvenirs, venue or hotel arrangements, games and activities, etc. –— and ask people to indicate their volunteering preferences. Things will go so much better if people are working in their strengths and areas of interests."
Did someone say family reunion themes?! If your extended family is into the idea of matching t-shirts, hats or other apparel, discussing budget, sizes, colors and shipping time is super important. Not to mention organizing the ultimate family photo with everyone donning their fabulous new apparel. Other favors could include anything from a piñata to customized M&Ms and beach towels to a family flag.
Make sure you know who is collecting money, when they are ordering the apparel or favors, expected shipping times and decide how those items are getting to the reunion destination. Also important: organizing any apparel by size and family, or setting up custom favors and decorations when it's party time.
Designate a Family Photographer
Your family is coming together to reminisce and make new memories. So, who's in charge of taking all the photos (or starting the shared photo album) and printing them in a family photo book? Everyone's sure to want a copy (or to collaborate on the book before it's printed, which you can do by sending a collaborator link in the Chatbooks app). And remember, at your next family reunion, you can page through your family's annual Yearbook and relive the memories. And if your family ends up traveling to get together, this is the perfect opportunity to add all your family activities and adventures to a travel photo book.
Bring Games and Activities
Bostwick also suggests family trivia as a fun game, too. "Divide into teams for a trivia game with questions centered on your family history. Focus on trivia that touches on more positive subjects, not the time Uncle Lonnie went to jail for cattle tipping. Or maybe both, for pure entertainment value."
Bostwick also suggests family trivia as a fun game, too. "Divide into teams for a trivia game with questions centered on your family history. Focus on trivia that touches on more positive subjects, not the time Uncle Lonnie went to jail for cattle tipping. Or maybe both, for pure entertainment value."
Refer To This Family Reunion Checklist
Bostwick lists these items as her big no-no's when it comes to a big family reunion:

Don't forget a first-aid kit

If you choose to serve alcohol, don't forget to serve plenty of non-alcoholic beverages, as well (stay hydrated!)

Don't bring up topics that will inevitably embarrass or anger family members (including politics)

Don't over schedule — keep some room in your timeline
Remember, while people will appreciate your planning, your Uncles may not want to participate in cornhole and your little cousins may want to play hide-and-seek instead of playing family trivia – have options and roll with it!