20 Genius Family Photo Gallery Wall Ideas You Simply Have to Try
Make your house guests say WOW with these photo gallery wall ideas.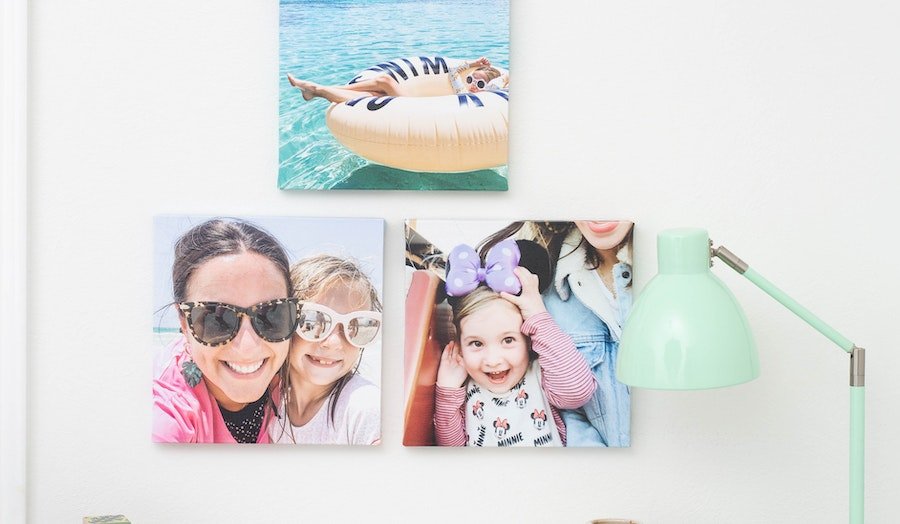 A family photo gallery wall sounds like a great idea, but then again so did getting that toy piano for your three-year-old. But thanks to Chatbooks, you no longer need to dread turning those photos stuck on your phone into stunning home decor. These simple family photo wall ideas make for beyond easy and super unique photo gallery walls, especially when you're using Chatbooks wall tiles. Learn how to display family photos on a wall in two seconds flat.
How To Lay Out Your Gallery Wall
There are a bunch of different ways to arrange your wall tiles in order to maximize your space and upgrade your empty wall. Here are 3 go-to approaches for designing the gallery wall if your dreams.
Arrange 9 wall tiles to compose a large square. This formatting is perfect for a gallery wall in a more narrow area of the home or in a space with a lowered ceiling (like in a finished basement).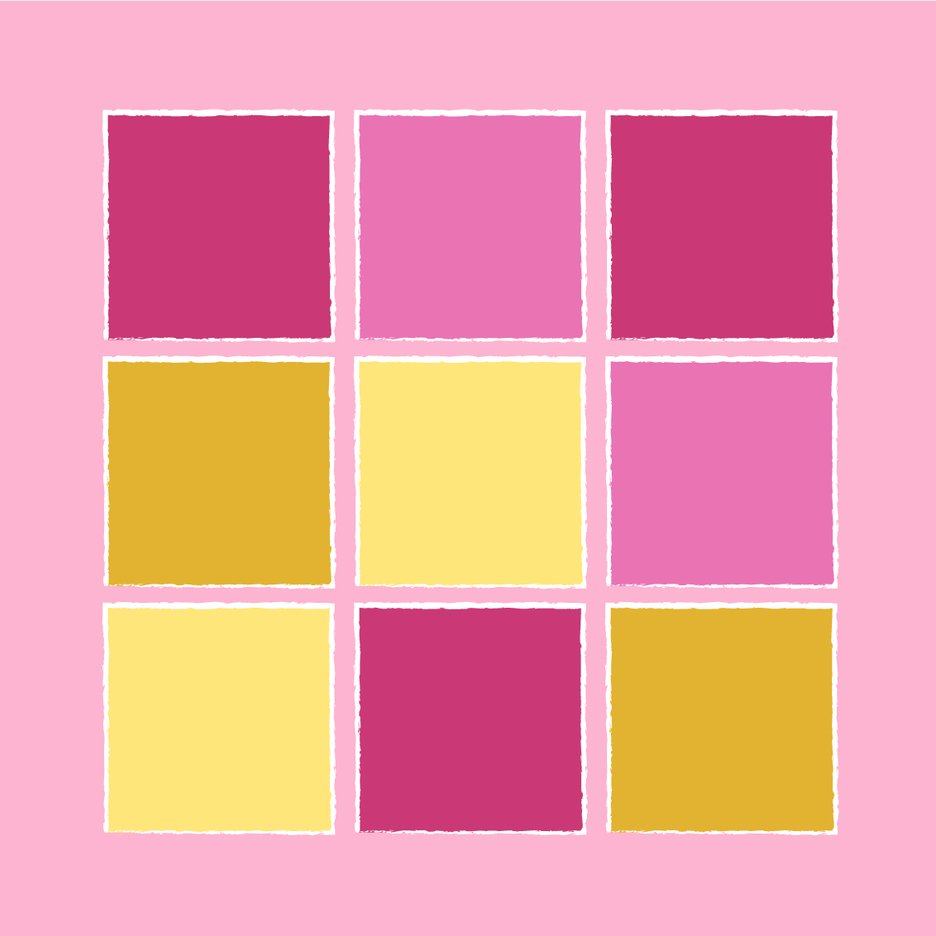 2. Alternating Size Gallery Wall
To create a perfect rectangular gallery wall (ideal for an empty wall above a couch), order 3 square wall tiles and 3 landscape ones. Then, alternate using a square or landscape wall tile as your work your way across your wall.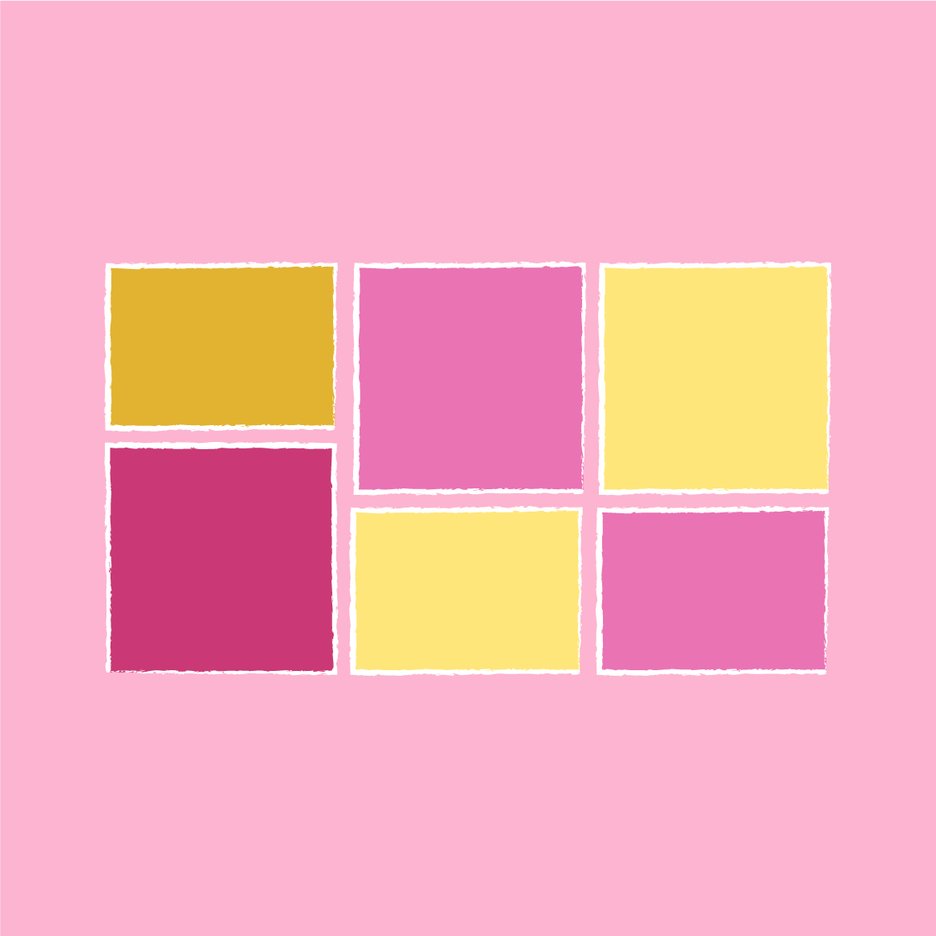 3. Asymmetrical Gallery Wall
Add a little more interest to your gallery wall by incorporating various wall tile silhouettes. The portrait wall tile is great for adding headshots of the kids to your eclectic mix of prints.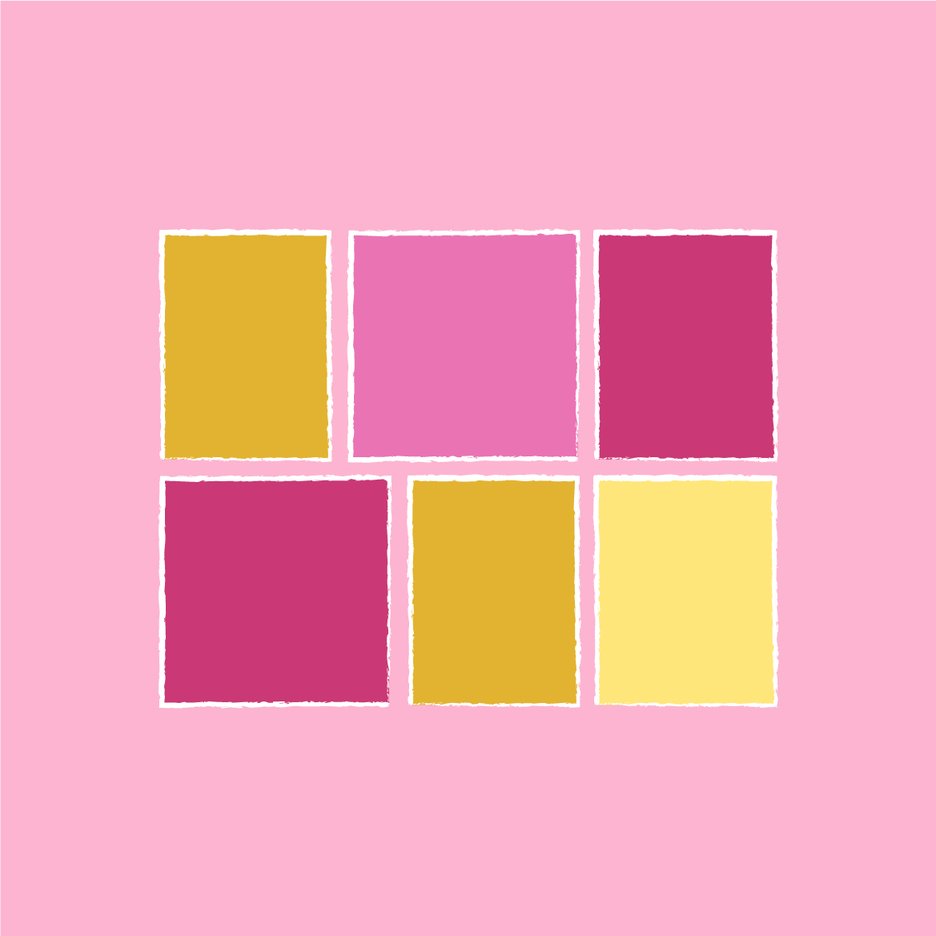 Now that you know how to expertly lay out your gallery wall, learn some fun themes and concepts to pull all your pictures together.
There is no easier (or cuter!) way to create simple home decor than with wall tiles. At only $15 a tile, there also isn't a cheaper way to create wall decor that will make you smile every time you look at it. Our simple peel-and-stick Wall Tiles make decor as easy as 1, 2, 3! Get your Wall Tiles here.
Incorporate the letter that your last name starts with
Looking for a simple way to show off your home, your family, and your namesake? Create a gallery wall that's extra homey by adding a large wooden letter to your photo display masterpiece.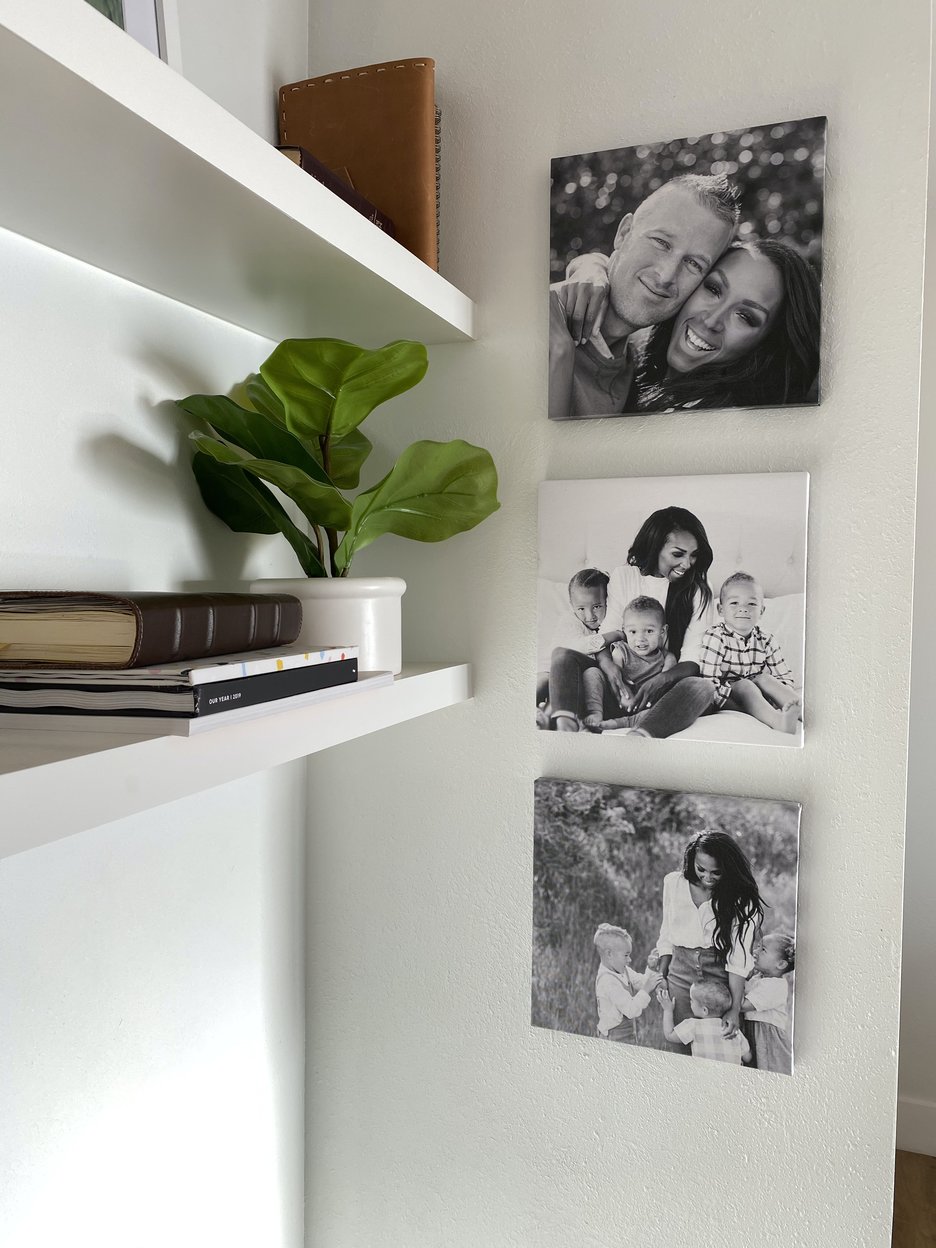 Opt for only black and white photos
For a simple way to make your photo collection look more cohesive, stick to a neutral color scheme. How? Try using only sepia or black and white photography. This example of 3 simple black and white photos is so chic.
If you want an easy to switch out photos and decor as your kids grow and your style changes, just hang up a floating shelf! There's no need to force a gallery wall with this little design workaround. A cute shelf in your entryway or in the living room is the perfect place for all of your framed photos of Chatbooks prints to live.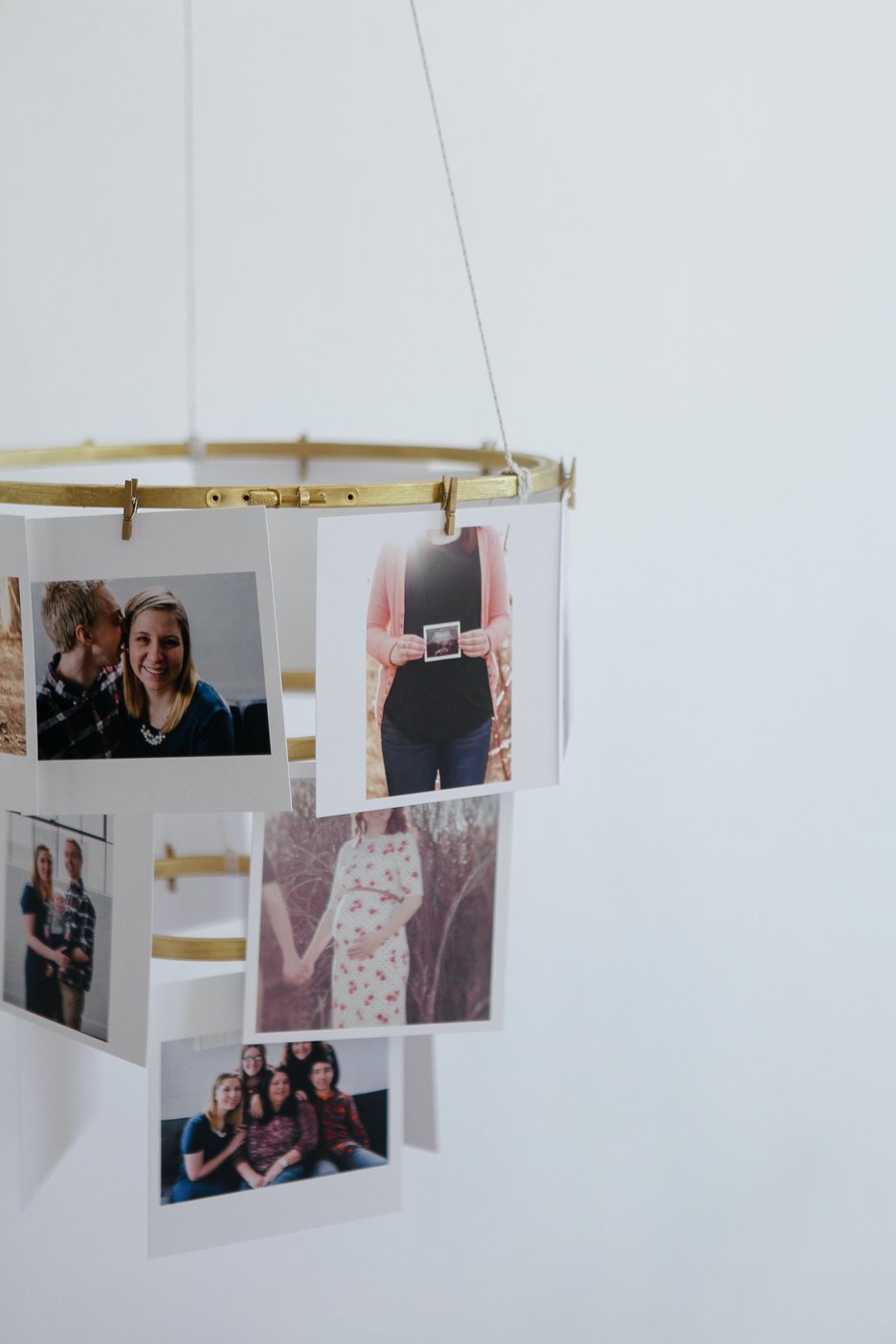 Want a unique way to display your photos in a bedroom or mudroom? Try a photo mobile. To make your mobile come to life, use embroidery hoops of various sizes, twine or string and a few Chatbooks photo prints. Your kids will love helping you with this easy DIY project!
Organize your photos into a timeline
Hang family photos in chronological order of when they were taken. This will serve as a great reminder of how far your family has come and will be so fun to watch how your kids grow.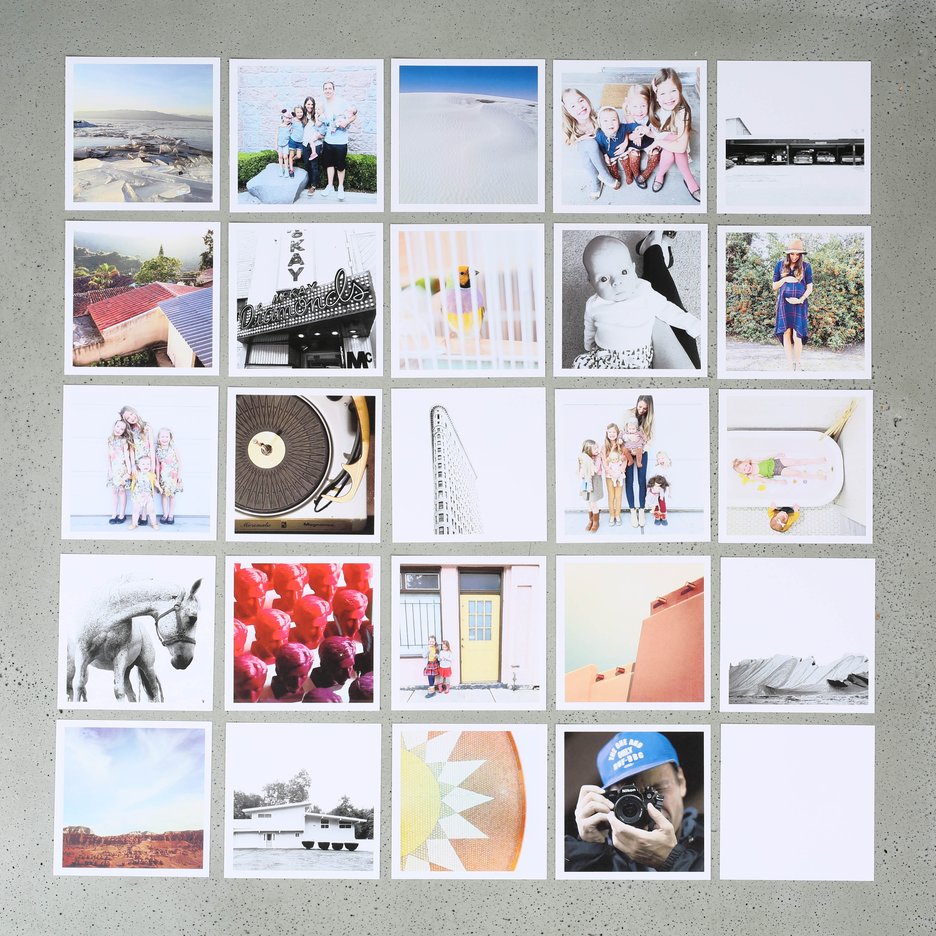 Use your Instagram Photo Prints
So simple and it hardly takes any time: You have already edited and posted the pictures! Just connect your Instagram to your Chatbooks account and have perfect Instagram prints sent to your door for you to display on your fridge, in your room, or in the bathroom.
Lay out a travel destination gallery wall
Such a fun way to remember all of the incredible places you've been as a family and all of the memories you've made! Group travel photos together for a gallery wall full of wanderlust.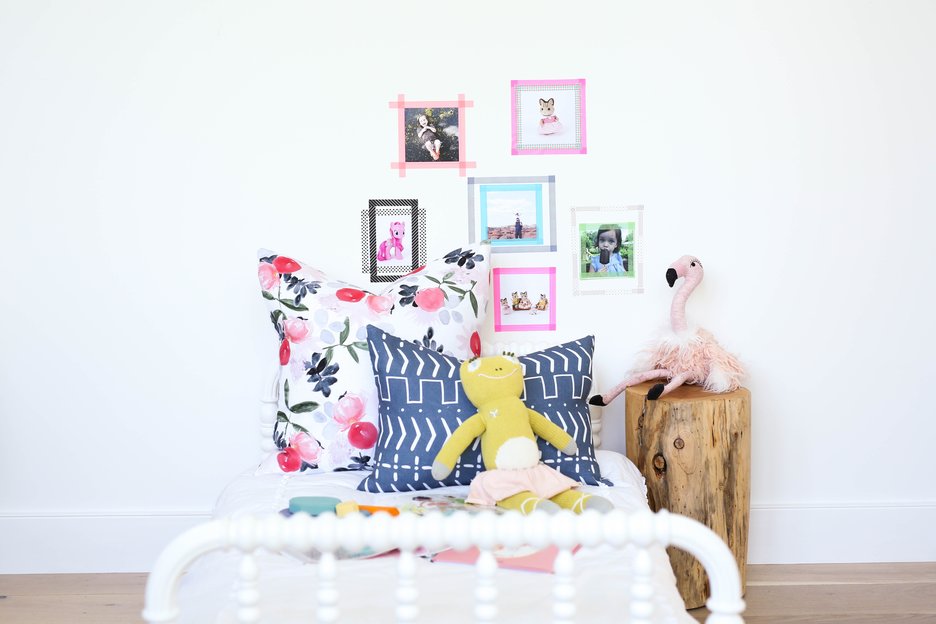 Try no-damage DIY Photo Print frames
Get your kids to get involved in the decorating process with this beyond easy DIY. Rather than framing all of your Chatbooks Photo Prints, use tape to secure them to the wall and them "frame" them with colorful washi tape. One huge bonus: They can switch the tape out whenever they want!
Lean into a photo gallery wall shape
Want an out-of-the-box layout for your gallery wall? Try arranging your framed photos into a shape like a triangle or circle. Creating a shape with your photos really mixes up your typical family photo gallery wall and adds some additional depth to your creative space.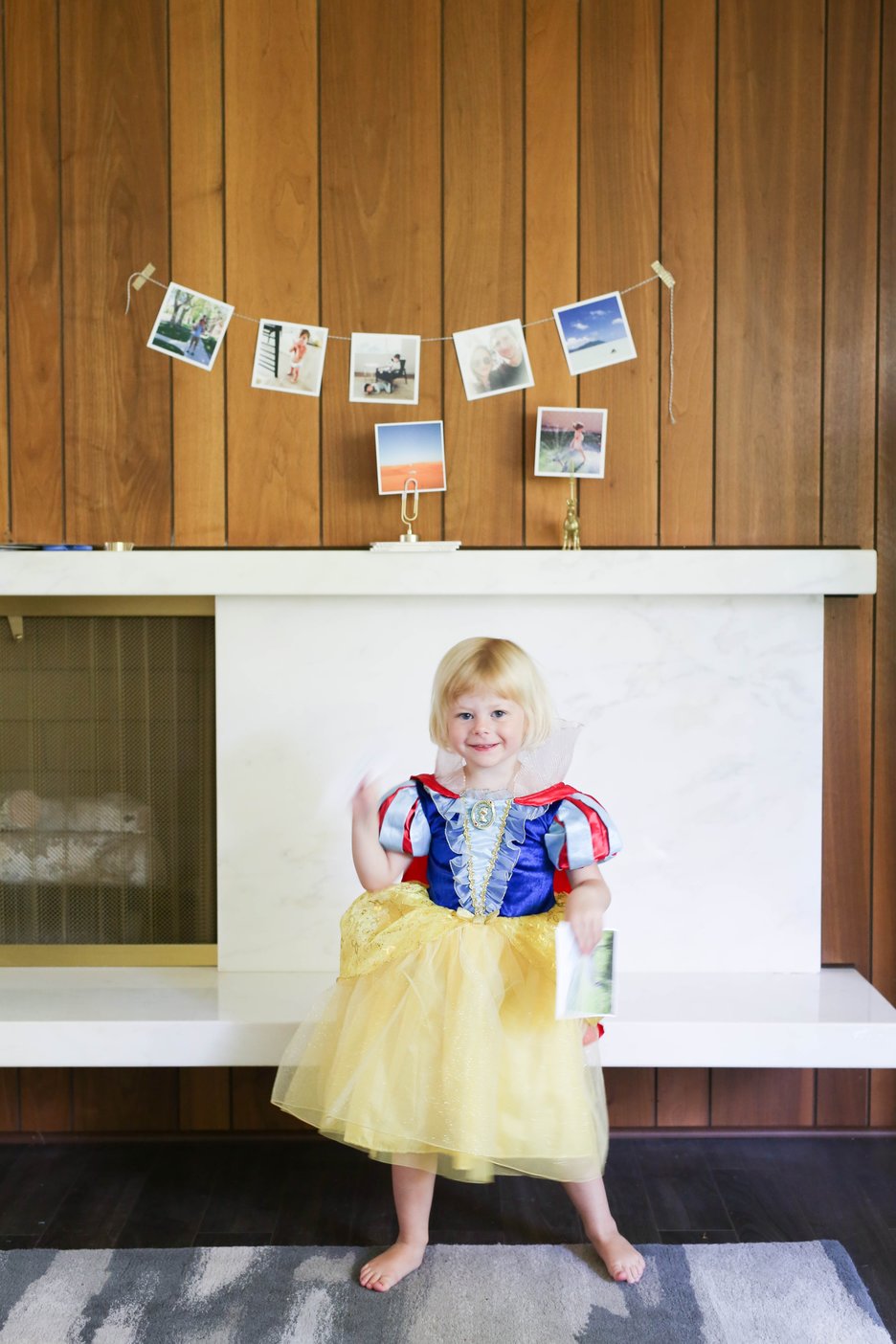 Hang up a Photo Print clothesline
Such a simple way to display your photos without damaging the walls or needing a lot of supplies! Simply buy small command hooks, string, and clothespins and start stringing your memories together.
Go big with a giant gallery wall
Rather than reserving a section of your wall to hang photos, try turning your entire wall into a photo gallery. This will be so fun for guests to check out and also for your kids to see every morning as they are leaving for school. These are their people!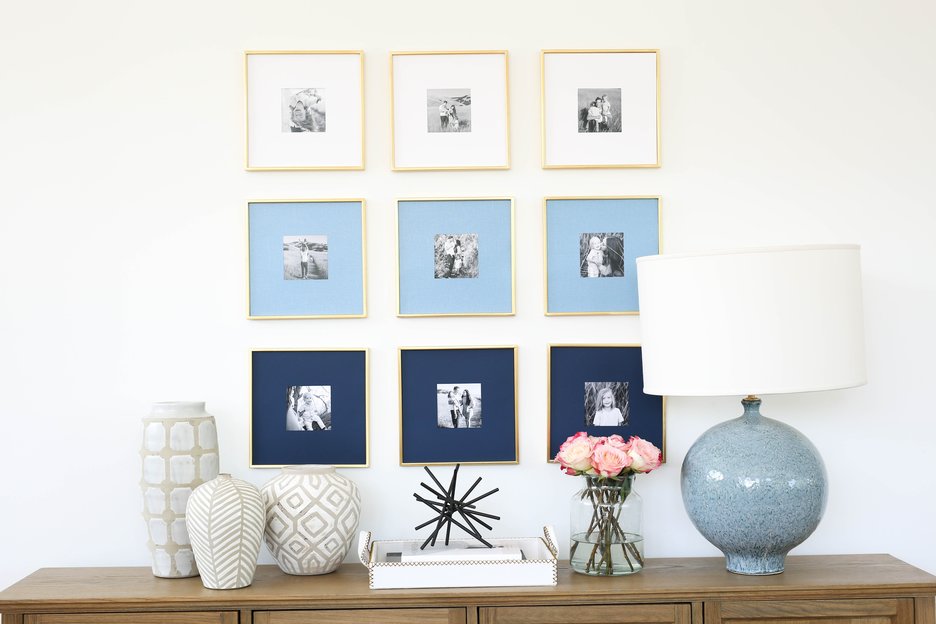 For a simple and beautiful way to show off your favorite prints and best family photos, buy a bunch of the same frame to use with your pictures. This will create a cohesive vibe for sure.
Design a fur baby gallery
What better way to pay tribute to all of your animal friends than including them in your family photo gallery. Design a little gallery wall just for pet photos. It'll be the best decision you've made in a while.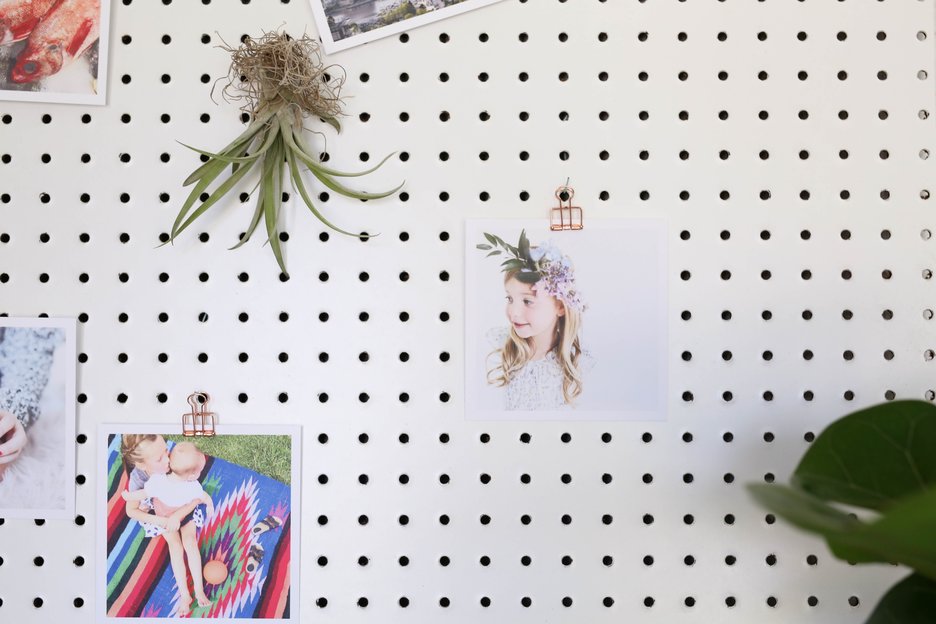 Make a Photo Print pegboard gallery
This is probably the easiest way to show off your family photos without any frames, nails, or command strips. Simply clip your photos and hang them.
Consider adding shadow boxes for extra wall flair
Whatever you collect as a family, use your gallery wall space to show it off! Whether it's pins, stamps or stickers, you will love being able to look at all of your memories hanging on your wall.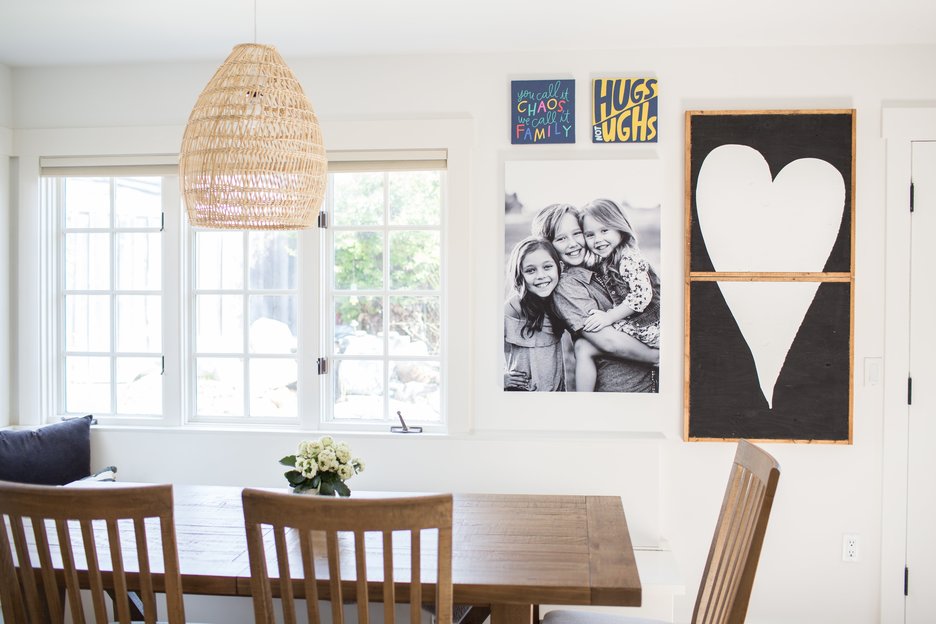 Add quotes in with your family photos
Family mottos, favorite quotes, phrases to live by: Whatever saying that your family loves, add it into your photo gallery as a great reminder of what you stand for.
Group photos based on location
Looking for a fun photo theme for your gallery wall? Display photos all taken in a certain city, state or even area of your house. Wouldn't a family photo gallery wall of pics taken only in the kitchen over the years be so delicious?!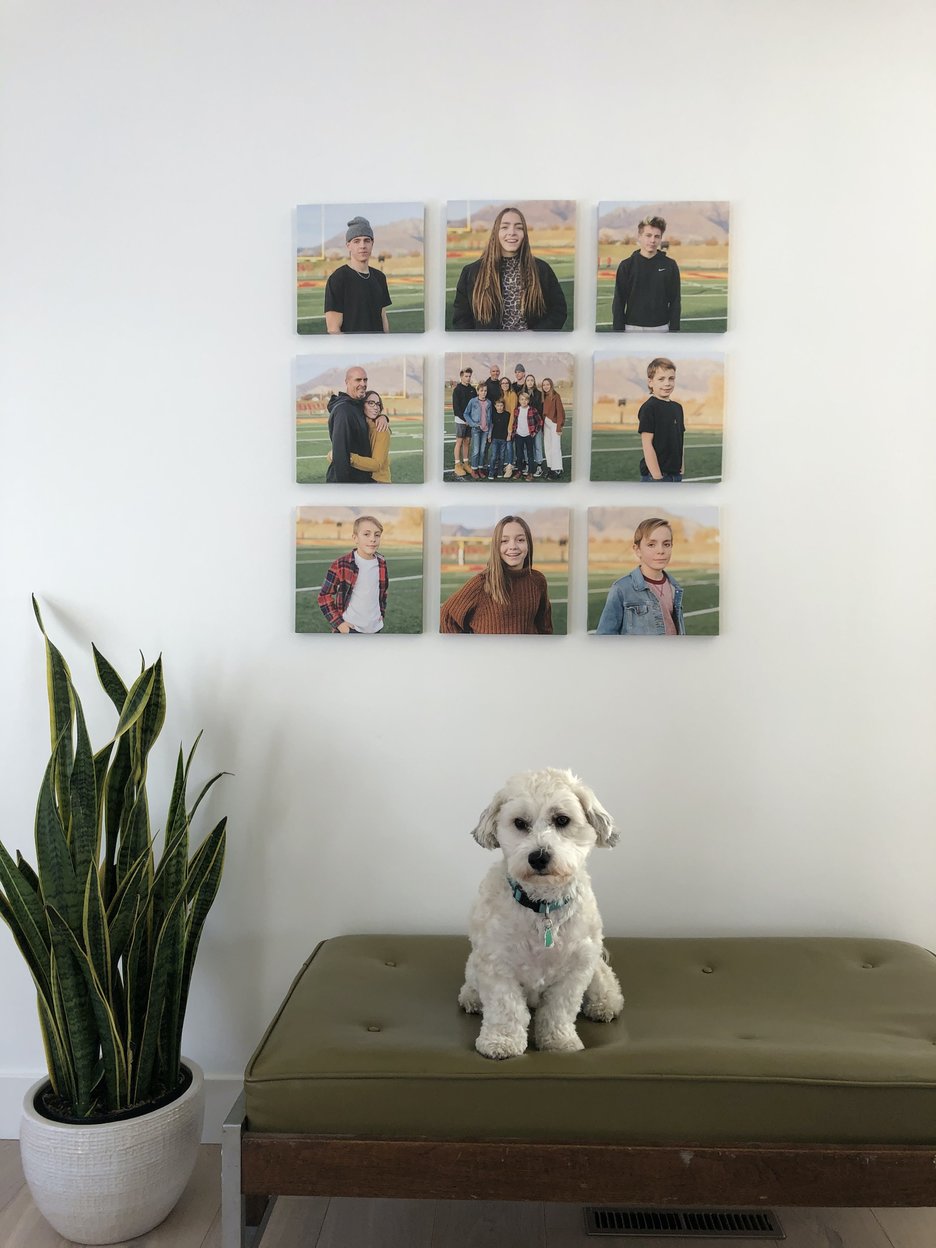 Turn your photos into a family collage
Display photos of each family member all taken during the same photo shoot (so that the light and scenery feels cohesive). This is a simple way to highlight not only your family photo but also your individual kids.
Have a single photo printed onto a few canvases
This is a fun way to get creative with your wall art while also only having to choose one photo (double win!) Maybe it's your favorite family photo or your go-to vacation spot.