12 Marvel Halloween Costume Ideas for the Perfect Superhero Family Photos
Marvel fans, you don't have to choose between Iron Man and Captain America again.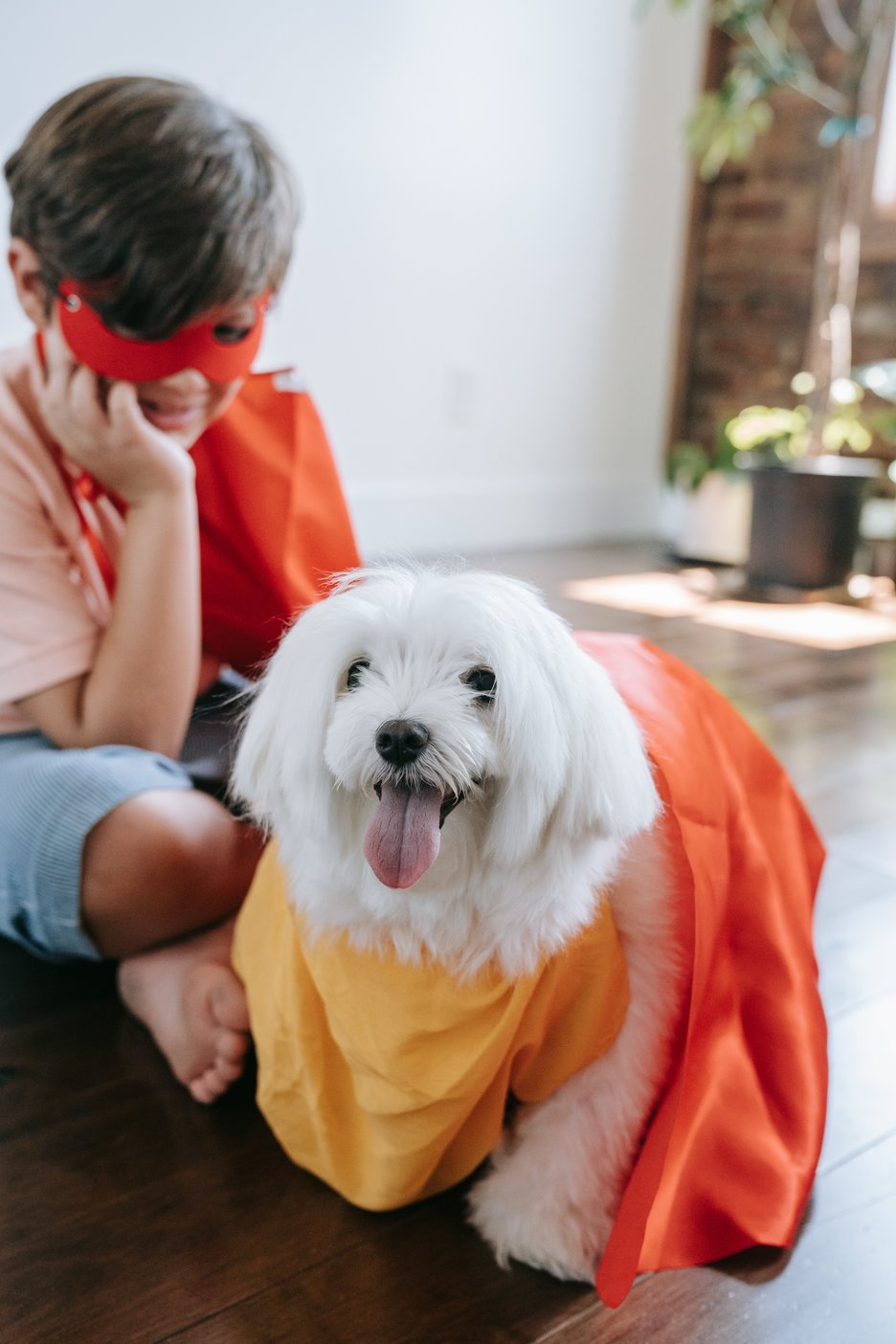 Despite all the action and heroism the Marvel cinematic movies deliver, the parts that stick with us involve our favorite characters — "Mr. Stark, I don't feel so good" — because these heroes, once forced to become teammates, are now family. Which makes for an easy Halloween costume! Plus, who doesn't love to dress up like a superhero? Whether you're purchasing or creating a DIY costume, these are the best Marvel Halloween costume ideas for the perfect superhero family photos.
Since your family doesn't dress in their superhero costumes everyday, make sure you take ALL the pictures, then print them in your Monthbooks subscription (or make a Halloween-themed photo book for the occasion). The kids grow so fast, who knows if they'll fit into their masks and capes next year!
Caution: spoilers ahead!
Black Widow
This year's standalone MCU film delving into Black Widow's origin story proved to be an amazing film. In addition, we learned about Natasha's adoptive family (though it was a mission, like Yelena says, "it was real to me.") If your family loved learning more about Natasha's life before the Avengers, suit up as Black Widow and her family (Red Guardian, Yelena and Milena) this Halloween. Pro tip for DIYers: Since Natasha, Yelena and Milena all wear Black Widow suits throughout the movie, that's one costume that can be DIY-ed thrice!
Shang-Chi
If your family left the movie theater with a new favorite MCU film, dressing up in costumes inspired by Shang-Chi is a no-brainer. The kids can dress as siblings Shang-Chi and Xialing (and don his staff or the 10 rings) and best friend and sidekick Katy. If you're dressing up with them, dress as parents Wenwu and Ying Li — or as Wong (known for his role in Doctor Strange).
Hawkeye
Everyone's favorite Marvel archer is finally getting his time in the spotlight — and as one of the few members of the Avengers team with family members (the audience has been introduced to), there's never been a better time to dress up as Hawkeye and his family, or even his successor, Kate Bishop. (Feel free to throw in a Yelena costume, too, since the former Widow also makes an appearance in the Disney+ series).
Spider-Man
While Spider-Man costumes are popular every year, your kids are probably more excited than ever to dress as Peter Parker (or Spider-Gwen) ever since the trailer for Spider-Man: No Way Home debuted. Aside from Aunt Mae, Peter's team has often included friends Ned and MJ, and even Iron Man, Dr. Strange and Nick Fury. (And let's not forget his numerous villainous foes, like Mysterio.)
Black Panther
King T'Challa's strength doesn't just come from his Black Panther suit, but from the love and loyalty he inspires from his family, like sister Shuri, his mother Queen Ramonda, and his late father King T'Chaka. And if you need another royal Wakandan family member for your family, there's always T'Challa's anti-hero cousin, Erik Killmonger, or Black Panther's closest ally (and general of the Dora Milaje) Okoye, his love Nakia, and former rival M'Baku (or, former friend W'Kabi).
Guardians of the Galaxy
The Marvel movie with the (arguably) best soundtrack also boasts a wide range of characters who at first, may hate each other, but ultimately become a team full of space-saving family members (and joke crackers). While you might have to fight your kids to dress as Groot (don't forget: there's adult, teenage and baby Groot), there's also Star-Lord, Gamora, Drax and Rocket to fill out your family's costumes. Or, dress up as Yondu and his ravagers!
The Avengers
"I am Iron Man." And you can be, too, if you call dibs on Tony Stark's iconic suit before your kids. The iconic superhero team also includes Captain America, Black Widow, Hulk, Thor and Hawkeye. You can't go wrong by suiting up as the MCU's original strangers turned team turned family.
WandaVision
If your family sang along to this Disney+ show's theme song every week, Wanda and Vision's (heart wrenchingly fake) family might just be the perfect costumes for your superhero family. If you don't want to go full Vision makeup, dress up as his "human" alter ego and try Scarlet Witch's comic-style mask from the Halloween episode. The kids can dress as Tommy and Bill, or their back-from-the-dead uncle, Pietro, aka Quicksilver.
Thor
Even though Thor found a family with the Avengers, his adventures often include his rebellious and somewhat evil siblings, Loki and Hela. And though they're known for creating chaos, they're also known for their iconic looks (have you seen Hela's horns?!). Your family can also dress as his father Odin, his mother Frigga, his people, the Asgardians, or even Valkyrie and her fellow warriors.
Ant-Man
In addition to his daughter, Cassie, Ant-Man (and his best friend, Luis) spends most of his time with Hope (aka The Wasp) and Hank Pym, forming a superhero family of their own. After the events of Avengers: Endgame, there's a lot still left to explore in Ant-Man's world (including the Quantum realm) — so this is the perfect time for your family to get double use out of those costumes, for Halloween and the release of the the superhero's sequel movie: Ant-Man and the Wasp: Quantumania.
If you're looking for a set of MCU costumes that'll stand out this Halloween, try exploring costumes of Marvel families that aren't often seen together on Halloween, like Thanos, Gamora and Nebula, or the brotherhood that's Captain America, The Winter Soldier and Falcon.
Pro tip: Get ready to dress your family as the cast of The Eternals next year (this MCU film releases November 5, 2021)!