25 DIY Christmas Cards to Try in 2022
These DIY holiday cards will make you say "ho-ho-hold the phone because these cards are too cute."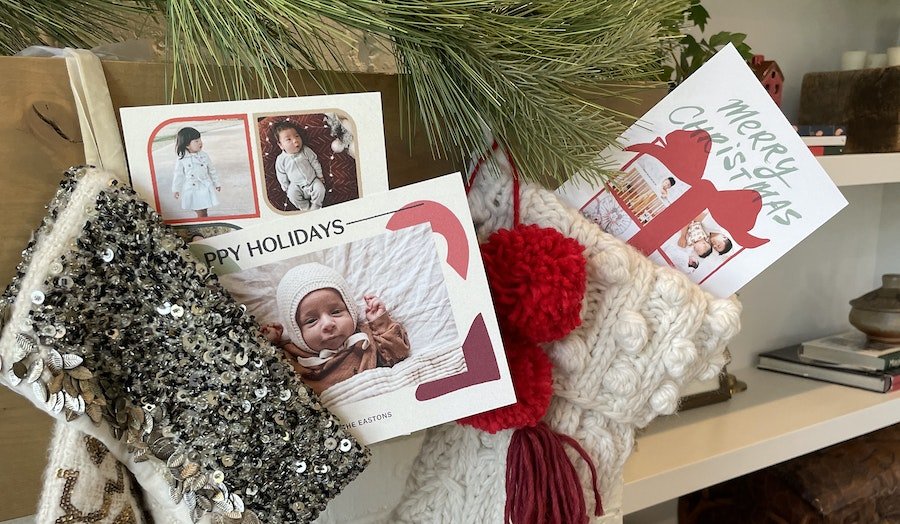 It's beginning to look a lot like Christmas... which means 'tis the season for holiday cards! If you've got tons of cards to send and not a ton of time, Chatbooks holiday card templates will make the process a breeze! Open the app, upload a family photo, fill in your text and done! Our holiday card templates are modern and fun, offering an array of colors, font styles and illustrations. With so many great card designs to choose from, you just need to decide which family photo to use. These 25 DIY Christmas card ideas will give you inspiration for the perfect family photo.
Get Greetings from The North Pole
This year, don't only send out holiday cards — make sure you receive them, too! Snap some photos of the kids getting this note from The Big Guy out of the mailbox and reading the sweet message printed on it. Photos of this cute Christmas moment will be perfect for your own holiday cards! There are plenty ways to send a card from Saint Nick to your little one, like these Postcards from Santa.
You and your family love to have fun, which is why you should opt for a silly and candid photoshoot for your holiday cards this year. You'll love how these turn out and your friends will love to receive them.
Stumped on how to choose from all the great family photos this year? Don't just pick one. Instead, make a Christmas card with a collage of your favorite photos!
Opt for an unconventional color
Holiday colors are beautiful and vibrant, but they might not be your thing. No fear! A muted holiday palette can be just what you need to make your holiday cards a little more up your alley.
Cheer for Christmas lights
Opt for some clipart of Christmas lights and festive fonts to your Christmas cards to make them holly and jolly. Incorporate some colors from the photos into the string of lights.
A bold, gold font is always a good idea when it comes to Christmas. Chatbooks has plenty of gold fonts to choose from that will bring a real elegance to your holiday cards.
Perhaps you had a baby this year and you want to focus more on them for your DIY Christmas card. Create a card that features an adorable picture of your little one to show off to your friends and family.
Another great option for Christmas card photos is to focus on the kids. In your photoshoot, make sure to get some shots of the kids standing and playing together. Then, use one of those as the main photo for your cards.
Typography is a great way to add some of your own personal style to every photo note. A blocky, modern font can be a super easy way to update your traditional Christmas card.
Consider the rule of thirds
Three is the perfect number to draw the eye's attention. Find three of your best photos that you can display on a totally on-point Christmas card.
Let each family member shine
Take portraits of each family member so they all get their time to shine. The close-up shots of the faces will bring so much emotion to the photos. This black and white look adds even more of a festive Christmas feeling.
Use Christmas props in your DIY photo cards and add all the holiday colors so that each note you send out is filled with Christmas cheer.
Have fun with half and half
This simple look is a great way to add a note alongside your photo. On the note part of your card, consider pulling out a color from your photograph to pull the entire look together. You'll love this minimalistic DIY Christmas card!
Just because it's winter doesn't mean you can't bring all the brightness and warmth to your photo! If you're forever in a summer state of mind, choose a photo that is warm and bright and add some floral illustrations.
Sometimes all it takes is one simple photo and a bold red frame for a perfect DIY Christmas card. This look is timeless and the framing of the photo gives it a high-quality feel.
If you're celebrating multiple holidays this year, send your friends and family members more streamlined season's greetings cards. Choose holly berries and other holiday insignia as ornaments to your card.
If you will be having a baby in the new year, a great Christmas card to send out this year is one that documents you and your spouse's journey. People will love to receive the updates and you can put your bump photos to good use.
Whether you live somewhere with a white Christmas or you go to the beach on Christmas morning, you can choose your favorite family photo from a slightly sunnier time of year. Just because it's winter doesn't mean you can't send a little warmth to friends and family.
Save some money on envelopes this year by sending your Christmas cards out as a postcard. You can add a little note on the back and design your covers so that people all over the world who receive this card feel a little piece of you in their homes.
If 2022 has taught us anything, it's that we can't wait for a new year. Send out a New Year's card instead of a Christmas card to welcome in 2023 with open arms.
Show off your growing family
How fun is a one-year-old at Christmastime? Share how your family has been growing in your holiday cards this year. Share pictures of your sweet little one laughing and smiling with you and your partner together.
Bring your retro style to life by going for a color-blocked look for your DIY Christmas cards. Choose from tones of red and green for some minimal and adorable cards.
If you want to take your holiday gifts to the next-level, order some Chatbooks prints as cards to tie around your gift baskets. This unique idea will be a great addition to your gifts, and you can add a handwritten note on the back.
No need to hire a professional photographer this year! Go on a walk outside and snap a selfie of you and your family or simply sit in front of the Christmas tree and say cheese. These photos will turn out great and you'll love that you stayed true to you.
Share your first Christmas together
Christmas is also a time of romance, and you and your significant other might be celebrating together for the first time. Send out a Christmas card that commemorates your love and share in the holiday spirit.