46 Christmas Card Photo Ideas That Will Deck Your Halls in 2022
These Christmas photo ideas are fa-la-la-la flawless!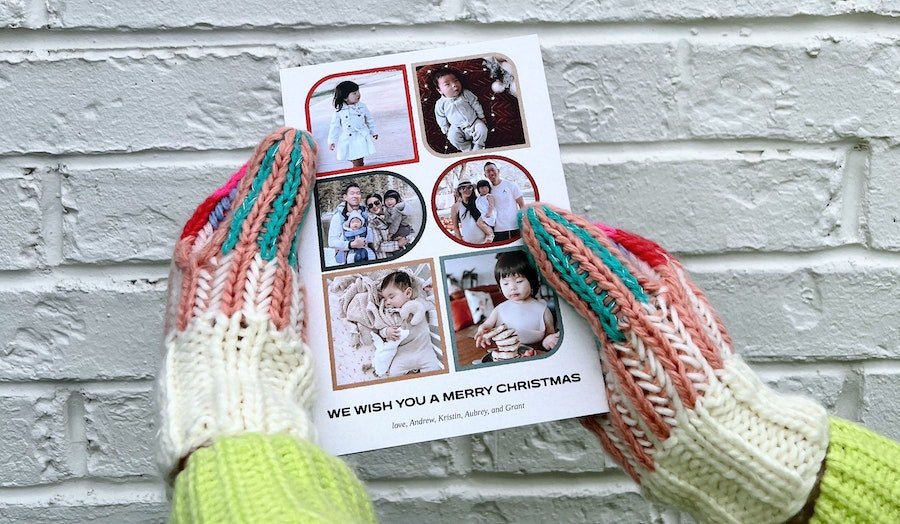 Annual Christmas photos are a great way to chronicle how your family grows and changes over the years. Holding onto your family's memories is so important — they go from being a threenager to a teenager way too fast! — plus, you want your card to looks its very best. It's not just about location, location, location, which is why we have a bunch of Christmas card photo ideas for this year.
And after all that time spent on finding the right holiday cards and presents, and time spent at parties and around the table with friends and family, it's no wonder your camera roll is filled with sweet shots of you and your family (especially after it took you 10 minutes to get the perfect shot). Don't let those pics get lost in your phone, print them in a holiday-themed photo book (print them in a high-quality Layflat photo book and add blank text pages to create a personalized gift), or hang them on your wall with Canvas Wall Tiles. And if you love saving your favorite memories from every month, print 30 pictures each month with a Monthbooks subscription.
1. Baking
'Tis the season to be baking! A great addition to your Christmas photo album this year will be candid shots of you and your loved ones baking cookies, making gingerbread houses and cooking up all the pie you can eat.
2. Playing in the snow
If you live somewhere where the snow falls during the holiday season, take a few photos commemorating the first snowfall of the year and all your little ones playing in the white, fluffy magic.
3. Sleeping by the fire
Among the most pleasant things in life is falling asleep next to a cozy fire. There is also nothing as adorable as a tuckered out partier who just needs a little nap. Be sure to take photos of all the snuggly moments around your home during the Christmas season.
4. Christmas props
This can be as simple as using your own Christmas decorations or printing off some creative photo props and using them in your holiday photoshoot. You will love the results of these festive photos!
5. Christmas crafts
This year, take the time to learn how to knit with grandma or draw some calligraphy on your winter postcards. From paper chains to Christmas cards, the holiday season is a great time to pull out old craft paper, paints and beads and get busy. Snap photos of the kids getting their hands dirty around the kitchen table. Take fall away shots to capture the vibe of the activity and then go in for close-ups of each kid's creation.
6. Virtual celebrations
Fact: Sometimes you can't celebrate in the same room. You and your friends can still do a virtual celebration via Zoom for Christmas this year. Ask everyone to decorate their own place and then take photos of their computer screens as everyone gathers for the holiday video call. The resulting photos are bound to be memorable.
7. Holiday decor
What's better than dusting off your Christmas storage boxes and pulling out the holiday decorations? This is a great family activity, and it also allows you to reminisce each year as you reflect on the old notes, crafts and stories that those boxes contain.
8. Christmas trees
Whether you get a real tree or you opt for a fake one, this symbol of the season always brings festivity to every photo. If you are planning on going to a tree farm this year, be sure to take some candid photos of the kids picking out the winning evergreen. If you are using a fake tree, snap a few photos of the assembly.
9. Cozy
It's time to whip out your fuzzy blankets, cable knit sweaters and fluffy socks! You'll love these photos of your family cuddled up cozy together or your little ones in their adorable wool jumpers.
10. Nature walks
There's always beauty to be found in our own home towns. Whether it be on the beach or in the snowy mountains, take some nature walks this year to bring a little holiday cheer. Snap candid photos along the way.
11. Christmas colors
Nothing is quite as festive as the reds, greens, silvers, golds and whites that signal the Christmas season. If you are looking for some fun photos to add to your Christmas collection, wear all the Christmas colors and find all the backdrops and props to really commemorate your holiday.
12. Flannel
We know you've been waiting all year to pull out your flannels for the Christmas season. Get cozy and stylish pics of you in your plaids and make sure to add them to your Christmas photo cards this year.
13. Christmas crackers
This is a tradition that has been celebrated in England since the mid-1800's and is a great way to bring some excitement to your family. You can find Christmas crackers here. Be sure to snap some photos of the little ones finding treasures inside their crackers.
14. Snowman
The best way to get the children to laugh and play? Build your own Frosty the snowman! This classic winter activity is a great way to find some candid shots.
15. Beach snowman
Speaking of snowmen, if you live in a place where the snow doesn't fall, spend a day at the beach with your family and build a sandman! Bring a carrot for his nose and use sea glass or beach pebbles for buttons.
16. Babies in costume
The world agrees: Your baby is totally adorable. But your baby in an elf onesie or a Santa costume? That is truly too much to handle. Make your DIY photos look totally pro by putting your little in a festive costume or outfit and snap away.
17. Snowflakes
Go outside during a light snowfall or stay in and cut some paper snowflakes with your family. These symbols of Christmas are perfect reminders that beauty can be found in simple and unseen places. Take photos of your work and enjoy your family's faces as they delight in this holiday tradition.
18. Christmas lights
If there is a particular street that really knows how to deck the halls, take friends and family on a drive and don't forget to snap pics of their bewitched faces.
19. Glowing silhouettes
While you're visiting the lights or enjoying them from your front yard, snap the silhouettes of your visitors among the glowing colors. This shot is a bit mysterious and has such a holiday feel to it.
20. Festive furry friends
Your family pet deserves a little photo op, too. Take pictures of the kids placing a Santa hat on the dog or snap images of the cat attempting to pull the elf off the shelf.
21. Sleigh rides
Whether it be a real sleigh ride in a park or something you and your loved ones do using a makeshift dogsled, you'll feel the true joy of Christmas with this activity. And the pictures will be epic!
22. Fancy Christmas
If you and your family love a good excuse to dress up (like The Makerista squad), take formal, festive photos. You don't even have to have an actual party to nail this look. Just get everyone into their Christmas outfits and give the kids some confetti to throw. Your best reds and greens will make for some stunning photos.
23. Cultural night
To make a new memory this year, learn about other cultures and how different holidays are celebrated around the world. Go online for some resources about Christmas traditions in other countries. Make a new dinner or play a new game, and take pictures as you do. This experience will be a treasure to your family, and especially your kids.
24. Grandparents
Grandparents are the best because they can be Santa's little helpers when it comes to gift giving and party planning. If you live near grandparents, invite them over for the holiday festivities. If not, plan some virtual celebrations and take pictures of the children's delight at spending time with their elders.
25. Presents
A great opportunity for some really fun and candid photos is in the gift wrapping and gift giving at Christmastime. You can take some adorable candids of the kids learning to wrap a gift, complete with tape all over their hands. Go for some shots of them holding the gifts and, of course, unwrapping their new presents.
26. Santa hats
Christmas without Santa hats is like a week without weekends: What's the point? Don't let this adorable trend slip through the cracks. Get your family some caps that only jolly old Saint Nick himself would approve of, and then take pictures until your cloud storage is full.
27. Christmas morning faces
These candid shots will be priceless heirlooms to look back at one day as you sneak pics of your kids on Christmas morning. Their happy little faces are worth all the moments stuffing your face with gingerbread as you hide out in your pantry just for 5 minutes of uninterrupted silence.
28. Coordinating outfits
You will be the fashion talk of the town if you get coordinating outfits like this family from Happy Grey Lucky. Christmas coordination is awesome for some family or friend photos that will bring you a lot of holiday cheer.
29. Silly Christmas
No need to puzzle 'til your puzzler is sore when it comes to having a good time being silly with your loved ones this Christmas. Plan a costume party or a movie night and just have a good time telling stories and having fun together. The photos will turn out great and the memories will last a lifetime.
30. Letters to Santa
The north pole is busy this time of year, am I right? Send some love from your home and write your own letters to Santa. Pull out some Christmas craft paper, stickers and markers because this will be too cute to pass up. Take photos of the kids writing away.
31. Romantic photos
Many couples get engaged around the holidays. If you fall into that camp, you and your significant other need a Christmas photoshoot to capture all the sparks that are flying. What better way to celebrate the season of Christmas than with romance? Have a professional photographer take photos of you two outside right before sunset for a dreamy, winter vibe.
32. Holiday jammies
This tradition is a great way to bring your family together. Whether you go for a new set of jammies every year or you bring out some of your old favorites, take pictures of the family all cozy and ready on Christmas eve.
33. Movie nights
Oh Martha! Oh Christmas! The cinematic magic that Christmas movies bring into your home is enough to keep you going all season long. From old classics to the new streaming services, your family will love a movie night marathon throughout the month of December. Bake some treats and snuggle up because these photos will be great moments for the Christmas season.
34. Candid
Christmas means happiness in unexpected places. As you and your loved ones participate in festivities and traditions, do your best to take candid photos so that you can enjoy those memories for years to come.
35. Blankets
We love any excuse to grab a blanket, and the crisp winter air is one of those excuses. Blankets add a certain cozy element to your photos that you will love. Opt for a flannel one to add an extra holiday vibe to you Christmas card photos.
36. Garland
Whether you trim your own tree or decorate your home with pine and ribbon strands, this decorative twine will make you feel like you're walking in a winter wonderland. Take a family photo in front of all of your classic Christmas decor.
37. Ornaments
Hung on the tree with care, ornaments are a quintessential part of any Christmas home. Take pictures as your family pulls the boxes out, searches for their favorites and decorates the tree together.
38. Candy canes
You've been waiting all year to pull out these delicious treats of red and white sugary goodness. The little canes are great props for many photos and serve as a reward for the models.
39. Wreaths
You can learn to make your own wreath here, or pull your purchased ones out of storage. Either way, wreaths are beautiful additions to photos. Stand by the front door with your wreath hanging in the background, or have the whole family hold the wreath together as you stand in a snowy path.
40. Storytime
Snap pictures of Santa reading a book to your children or take photos of the family Christmas bookshelf. If you love "The Night Before Christmas" or "The Christmas Orange" then be sure to capture some moments with your loved ones gathered around as you read to them.
41. Santa Claus
This year, get someone to dress up as Santa Claus so that the kids can still get a picture with the king of Christmas. Nothing is better than pictures with the man in red.
42. Under the mistletoe
Not that you need an excuse for an adorable kissing pic, but this is a great one. Hang mistletoe above your door and grab your S.O. because these photos are too adorable!
43. Signs
North pole road signs and calligraphed Christmas cards are beautiful props that are great for your Christmas photos this year.
44. Red props
Red is a powerful color that brings a brightness to each of your photos. This Christmas color looks great in every shot and is a perfect theme for your holiday pictures.
45. Black and white
If you feel like you have a lot of color and want to tone back some of your pictures, consider adding a few black and white photos to your album. You can change the filter on a family photo and send it out as a Christmas card, or you can take some photos of your Christmas decor to create some interest in your photo albums.
46. Nativity scene
If you're religious, you might have a few nativity scenes around your home. These beautiful displays remind us why we celebrate the holiday, and they are great to take pictures of to commemorate your faith.