25 Creative 3-Year-Old Birthday Party Ideas For the Most Memorable Bash Ever
Need your 3-year-old's birthday party to be stress-free? All these birthday party ideas can be done on a budget.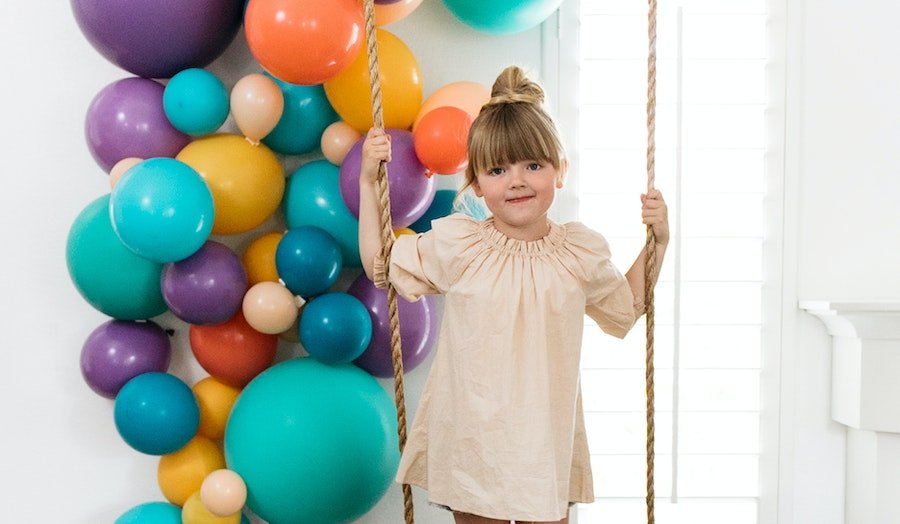 3-Year-Old Birthday Party Outdoor Ideas
Art Explosion
Hang a clothesline and attach large sheets of paper with clothespins (or set up on easels, or place on the ground and pin with heavy objects) and load up some squirt guns with paint. Let the kids shoot paint at their canvas for a super fun art explosion! Take a look at how it's done here.
Sprinkler Party
Whether you have a pool or slip 'n slide, a sprinkler is always a hit! It's super easy to create your own — which also doubles as a great way to water your garden! Take a look at how it's done here. And if you need another outdoor game for when the sprinkler's job is done, try outdoor tic-tac-toe!
Bubble Art
Want a fun, colorful activity that will excite your 3-year-old and their guests? With a few ingredients, they can blow their very own rainbow bubbles! Even cooler, they can blow their bubbles onto paper to make their own artwork, too. Take a look at how it's done here.
Bees
It's good to bee three! This clever rhyme is a great theme for an always-on-the-move tot. Dress them in yellow and black and use those two colors for decorations wherever you wish! If you want the food to stay within the theme, go for honey flavors (like Teddy Grahams or honey-flavored candies) for guests.
Zoo
This traditional party theme is classic for good reason — what 3-year-old doesn't love face painting, petting zoos or anything having to do with animals? You can try a different take on this theme by asking kids to dress up as their favorite animal, too.
Giving Tree
If you're hosting your toddler's party at the park, instead of asking for gifts and toys, ask guests to make a donation to a local charity or children's hospital instead. Do a reading of The Giving Tree and choose an activity that goes with the theme — and teaches the kids the importance of gratitude and volunteerism — like making art that can be hung in assisted living facilities.
Zombie
This is a great theme for tots who love zombies — or if you have tons of Halloween decorations that you can break out for the occasion. Go for green and black decor and teach your toddlers zombie tag, where one person starts as the zombie and tries to tag as many "humans" as they can, turning them into zombies along the way.
3-Year-Old Birthday Party Ideas At-Home
Unicorn
This easy favorite is all about pastels, ombre and rainbow decor — depending on what your 3-year-old's favorite unicorn looks like. Don't waste the opportunity to grab a unicorn piñata and fill it with multi-colored candy for the kiddos. And remember, when in doubt, anything sparkly will do!
Dinosaur
If you're throwing an indoor dinosaur party, this is a great time to break out that inflatable dinosaur costume that's been hanging out in your closet. All jokes aside, take out your kids' dinosaur toys and hide them in cushions, between blankets, or even in Jello so the 3-year-olds have to "dig for dinosaurs." Then, play pin the arms on the T.rex as a fun spin on pin the tail on the donkey.
Harry Potter
This tried and true theme is all about the magic. Draw little lightning bolts on their foreheads and give them "wands" (try chopsticks or pretzel sticks!) to practice their spells. You can also build an obstacle course they have to get through to score a point for their quidditch team. Take a look at how it's done here.
TikTok
They may be three, but they've still got moves. They can try dance and lip sync challenges (you can't go wrong with the newest Disney hit). For the soundtrack, you can play TikTok radio or find a clean playlist of TikTok hits on most music streaming platforms.
Encanto
We don't talk about Bruno… we will throw a party to his song! Whoever your child's favorite character from Encanto is, make sure you have the whole soundtrack ready for this sing-a-long. You can play the movie, break out any stuffed animals, dolls or other items you have from the movie and dress your 3-year-old in the colors of their favorite character.
Stuffed Animal Tea Party
Ask each guest to bring their favorite stuffed animal and prepare for tea! Break out your little one's fake jewelry and any play kitchen sets they may have (or use paper products and anything from your kitchen). Make sandwiches and cut them into small triangles and mini cupcakes for dessert — or whatever the birthday baby wants!
Princess Party
If you're itching to hire a professional princess to make an appearance, or have a friend with the right Halloween costume, a visit from a real princess could be the highlight of your 3-year-old's year. All the tots can ask burning questions and after the princess leaves you can turn on their corresponding movie or soundtrack to make sure the kids get all that excited energy out.
3-Year-Old Birthday Pool Party Ideas
3-Year-Old Birthday Party Winter Ideas
Candyland
Gumdrops, candy canes and cakes, oh my! If you have the board game, this is the perfect time to break it out. Aside from giving the kids tons of candy, you can also play a life-sized Candyland! Spread out cushions and pillows, use a sheet to make a frosting river, or whatever you have at home — sky's the limit! Have the kids jump from one spot to another, using either a spinner or by asking them questions (about candy or the birthday baby)!
Frozen
If this Disney movie is still at the top of your 3-year-old's list, then it's the perfect theme for your little's wintery birthday party! Think snowflake decor and blue, silver and white tones all around. Blast the soundtrack or turn on the movie and have the kids karaoke all afternoon (or night) long. Have the kids make little Olafs out of marshmallows and other candy — and little rock trolls out of gumdrops!
Ice Skating
Spending your third birthday gliding along the ice holding onto your parents' hand sounds pretty fun, right? If you choose to host a birthday party at an ice skating rink, you've nailed the winter birthday theme. After a skate, give the birthday baby and their guests some pizza and cake — or even ice cream, to stay in an icy theme — to really top off the experience.
Indoor Movie Theater
Build a fort in front of your television or break out your projector if you have one, then fill your fort with pillows and snacks and play your 3-year-old's favorite movie. Think cozy sleepover (without the sleepover bit, if your guests aren't old enough to stay over). Don't forget to serve popcorn!
Winter Festival
Think s'mores, hot chocolate, cotton candy, ice cream, and candy galore! Offer your own version of carnival games where the kids can win prizes (or earn tickets to redeem for prizes before they leave). Set up indoor bowling (stand up a few objects and give them a soft ball to roll at them), a game to land the ball in the basket and more. You can even set up multiple hula hoops and have the kids pretend to be animals in the circus!
Snowflake Scavenger Hunt
This is a fun one — if you remember where you hid everything — give the kids super easy clues about where you've hidden different snowflakes. Hide the snowflakes (which you can make from paper) around your house, half in obvious places and half that make them work a little bit (at least try to look under the pillow, kids). When they find the snowflakes, they can redeem them for prizes like candy or a toy — whatever you decide!