How to Make The Perfect 2022 Year-In-Review Photo Album
You'll love looking back at your year!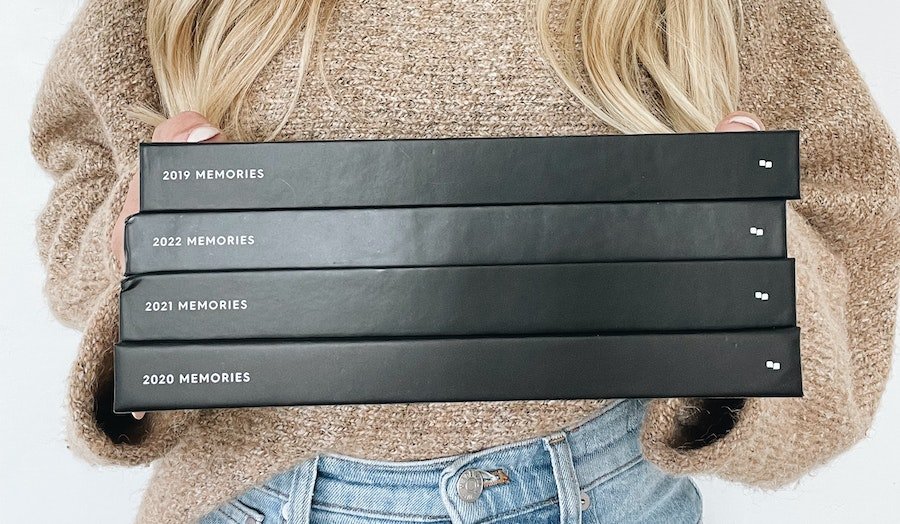 Start by collecting your pictures from 2022
Create a photo album on your phone of 2022 photos pulled from your Camera Roll, Google Photos or Instagram. Zero in on photos that capture moments big and small, like pictures of birthdays and that random Saturday you spent by the fire pit. Use photos of the kids and lifestyle photos that really capture 2022 — you might want to include photos of your face masks stashed in the kitchen or of the kids standing six feet apart at an outdoor graduation gathering. Having a few different types of photos will really help you add context to the year, especially if you have littles right now who might not remember a lot of it.
Organize your photos into the right order
Decide on how you want to group your pictures. You can go chronologically, or by activities and events, or even by color! This is where you get to be creative and set up an album that really tells the story of your family's year.
Go to your Chatbooks app and start a photo book
Now for the fun part: putting the book together. Download the Chatbooks app directly to your phone, or go to Chatbooks.com and start your Yearbook. Just tap on the Yearbook icon, select your Designer cover (the Rifle Paper Co. Yearbook covers are to die for!) and start adding your pictures. You can also choose from our classic photo books for a 6x6, 8x8 or 10x10 hard or softcover edition. Another option is to do a premium layflat book for a more luxe feel for this memento.
Write some witty captions
A picture is worth a thousand words, but lucky for you, you can add a great caption to really hit it home. Write about your year and make sure to include all the hilarious, emotional and beautiful details. You can also leave some pages blank if you'd prefer to hand write some details about the year. If you're at a loss for words, consider some famous family quotes or funny sayings about parenting.
Add a collaborator
Did you know you can collaborate on Chatbooks Yearbooks and all other photo books? Get your friends and family in on the love and subscribe them to your Chatbooks Yearbook. This will make for a great group gift, and everyone will love to be a part of the creation process. Ask people to send a mixture of selfies, group shots, and very *2022* images so that you have a nice array of photos to choose from.
Place your order
And just like that, you're done! Place your order and wait for your 2022 Yearbook to arrive. We know you'll love it, and the only thing we can't guarantee is that you won't freak out the mail delivery person as you anxiously wait for your package to arrive.