Free Valentine's Day Photo Booth Prop Printables for The Whole Family
Will you be my valentine?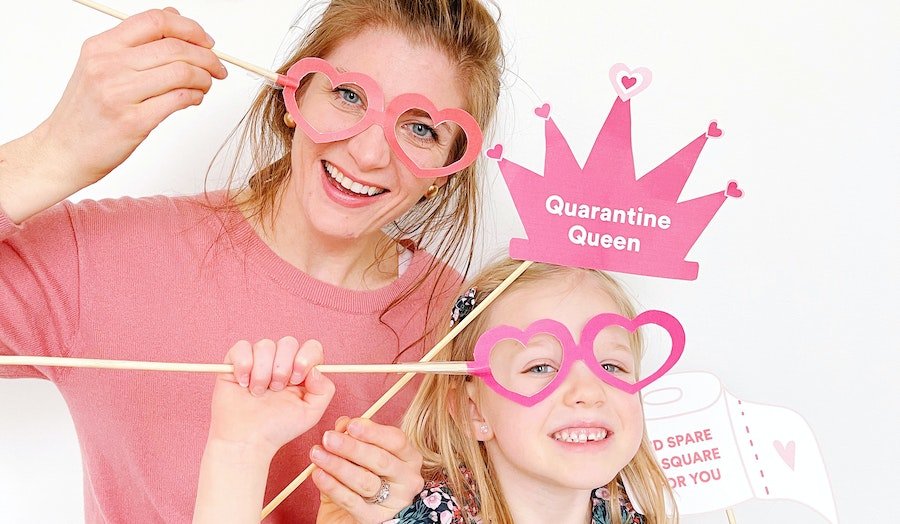 Looking for a quick, cute way to celebrate Valentine's Day with your little ones? Stumped on what to do with the kids indoors while still keeping things festive? Set up an at-home photo booth, complete with our free printable photo booth props! Simply snap your pics on your phone, edit them like a pro and print them in a Chatbooks photo book (don't leave your fam's adorable photos in a camera roll graveyard)! Find a link below where you can print your props and scroll down to see what our selection looks like!
And if you're celebrating with friends and family far away, virtual hugs for Valentine's Day these are the perfect way to share your conversation hearts from six-feet-apart for V-Day 2023.
And there's a way to display every sentimental photo — with a photo books to hold ALL the pictures from your family's memories! Print your favorite photos in a Layflat or Classic Photo Book, and add your inside jokes as captions or text pages, so that whenever you look through your family photos, it's all right there.
1. Download and print your Valentine's Day props. Opt for color props or print our black and white ones and let your kids color them in for an extra hour of fun. 😉
2. Cut them out and use tape to secure lollipop sticks, chopsticks or wooden skewers for the prop handles.
3. Set the self-timer on your phone's camera and strike a pose!
1. For a nighttime shoot, point a ring light or some floor lamps at your photo subjects for instant brightness.
2. Hang a patterned sheet or tape up some wrapping paper for an easy backdrop that'll make your photos pop.
3. Turn on some of your kid's favorite music, prompt a pose for each shot and just have fun with it!