13 Vacation Photo Album Ideas To Relive Your Best Travel Moments
No need to request time off from work. Here's how to relive your best vacay memories...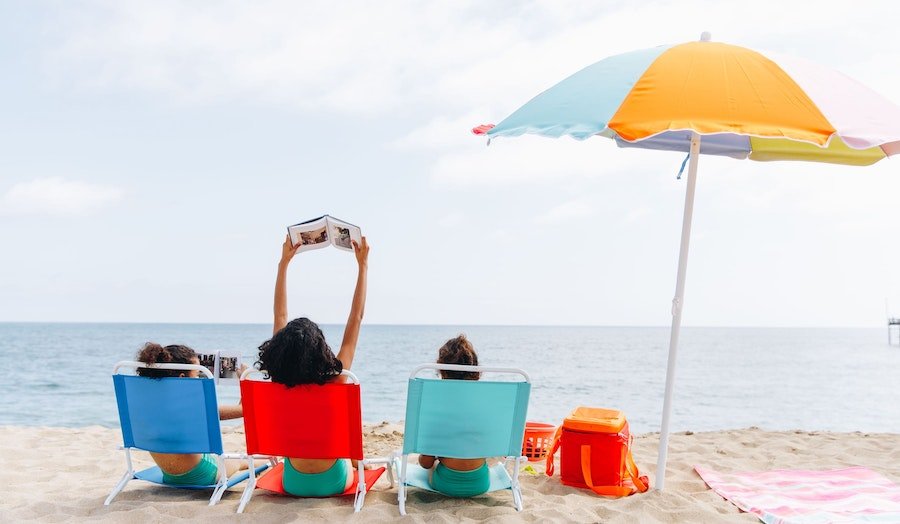 You look forward to planning a vacation the same way you anticipate taking off your jeans at the end of a long day. It's exciting to look ahead and think about all the relaxing things you're going to do (whether that be on a beach or in your comfy pants). But vacations are also about looking back and reliving all of the amazing adventures you've gone on with friends and family. There is nothing quite like seeing the world through a new lens, and printing your vacation photos into a travel photo book album helps freeze those moments in time. Because how could you really remember how the trash cans at Disney World are themed to each part of the park? Or would you even recall how wide the streets in Paris are without looking back at those photos of you in France? Pictures or it didn't happen, right? You might have more pictures than you know what to do with, which is why we've curated a list of the best vacation photo album ideas perfect for your travel photos.
Road trips are one of the best ways to see the country, and you've probably nailed a perfect carpool karaoke performance on those winding roads. Find all your pictures from your favorite road trips for a beautiful photo album.
The beauty of today's modern technology is that a photoshoot can happen anywhere. A selfie in front of the Eiffel Tower? Check. On your next travel adventure, snap some selfies at every major destination for a fun book filled with candid moments of you and your BFFs. Already got a roster of epic selfies? Print them!
Revive all of the old photos that are living on your computer or collecting pixelated cobwebs in Google photos and put them to good use by creating a throwback travel album!
Family photos through the years
Perhaps you and your family take the same trip to your favorite beach town or cabin in the woods every year. See how the family has grown and changed over the years by collecting photos of the whole gang in yearly family t-shirts to create an album that also serves as a time capsule.
Let's face it, you plan your vacation around the best restaurants and food experiences you can find. It's really the only true way to travel. If you're a foodie, odds are you've got amazing pictures of beautiful and colorful food from your trips. Print them.
While some globetrotters take their holidays in fabulous cities, others opt for some R&R with Mother Nature. If you love traveling to beautiful mountain ranges or breathtaking rivers with scenic views, make a photo book that reflects the beauty of our home on Earth.
Beautiful landscapes, surfing adventures, colorful seashells and sunny skies will fill an album of your favorite adventures at the beach.
For the more urban and artistic tourist, take photos of street style including art, architecture and fashion for a modern and display-worthy photo album.
For the erudite mind who always puts museums as essential stops on any holiday itinerary, collect photos of your favorite works of art that you've seen from around the world. Make a book full of Michelangelo, da Vinci and Rembrandt.
Color-themed coffee table books
If you enjoy taking photos of colorful doors or street signs when you go somewhere new, organize these photos by color and make color-themed books for your home. An aesthetically pleasing collection of photos can make a great coffee table book and will provide you with awesome memories from your trip.
National parks impressions
With the over 400 national monuments and parks that the United States has to offer, many people love to put these parks on their bucket lists. Snap pictures of the best parks you've been to, and create an album full of America's greatest treasures.
If you've had the good fortune of traveling to many of the 50 states (or perhaps even all of them!), create a photo album dedicated to our beautiful country. You can create one book highlighting a different state on each page, or you can create a photo book for each state as you continue your travels.
If you and your travel mates love to walk through the cities you travel to, take pictures of the major stops along the way. Collect those pictures, write down the significant details, and create a memory book that doubles as a walking tour guide book.