10 Easy Thanksgiving Activities to Create Memories With Your Kids
Give them something to remember — other than your amazing stuffing recipe, of course!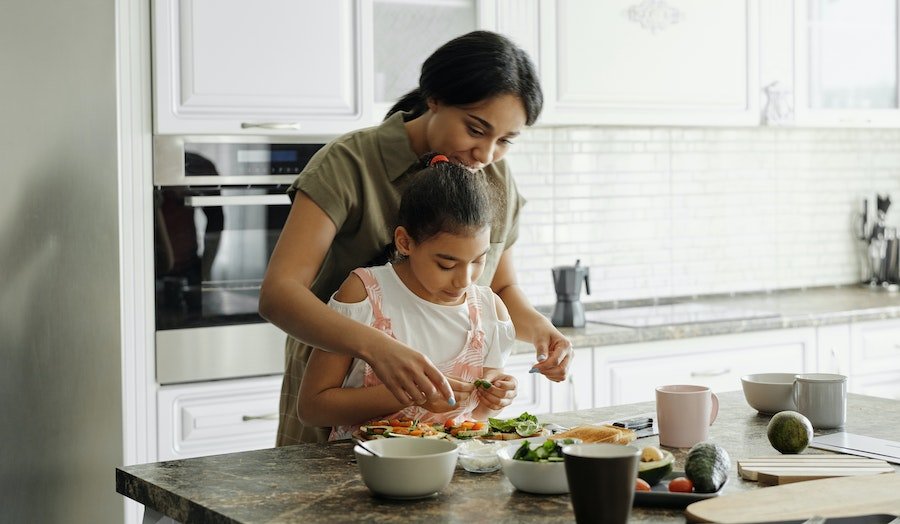 Thanksgiving ain't just about the turkey or the Macy's Thanksgiving Day Parade: It's about your family and making memories with your kids. Every year, your Thanksgiving dinner turned themed party is the perfect excuse to snap photos of your fam while everyone is in a great (and hungry) mood. Who wouldn't be after all that stuffing and pumpkin pie?! The day is ripe with opportunity for you and your kids to do some activities that create awesome memories.
And after all that time spent on playing football outside or perfecting the art of the turkey craft, it's no wonder your camera roll is filled with cute shots of your family in coordinating outfits (and all those pies you baked with your little ones!). Don't let those pics get lost in your phone — print them in a holiday-inspired photo book, (and get it in time for Christmas), or hang them on your wall with Canvas Wall Tiles. And if you love saving your favorite memories from every month, print 30 pictures each month with a Monthbooks subscription.
1. Share What You're Thankful For
Thanksgiving is, of course, the perfect opportunity to help your kids understand and express gratitude. Early in the day, ask each family member to share what they're thankful for. Make it extra fun for the kids by writing down responses on paper feathers and creating a "thankful turkey," or jot them down on a slip of paper to collect in a "thankful jar." When you sit down to eat, read them out loud.
2. Do Something Nice For Your Neighbors
While you're in the giving spirit, brainstorm how your family can perform random acts of kindness for your neighbors. Rake the leaves in their front lawn, invite them over for a piece of pie, or simply leave a handwritten note at their front door. It doesn't have to be extravagant—just a little something to brighten their day.
3. Bring Them Into The Kitchen
Invite your kids to help you prepare some part of your Thanksgiving meal. Maybe that means teaching them how to make the pumpkin pie recipe that's been passed down in your family for years. Or, maybe it's something as simple as whipping up some cinnamon butter. Whatever you make, your kitchen will probably (definitely) end up a mess. But the memories you'll make will be so worth it.
4. Do a Photo Scavenger Hunt
Entertain your family and capture priceless photos with a photo scavenger hunt. Separate the crew into teams of two or three people, and give them a list of photos to capture. (Some ideas to get you started: hugging your favorite furry friend, with the oldest and youngest person in the family, or posing with your favorite side dish.) The pictures you'll end up with will be the perfect way to remember this Thanksgiving.
5. Decorate the Dinner Table
No holiday dinner table is complete without festive place settings—so make it a family task. Maybe you paint mini pumpkins to put on each person's plate, or weave together strips of construction paper to make placemats. Or, simply lay a long sheet of craft paper over the entire table, spread out some crayons, and let everyone decorate their own section of the table.
6. Participate in a Turkey Trot
What better way to prepare for an indulgent holiday meal than running a few miles? You can find a Thanksgiving morning race in nearly any city, usually with distances ranging from a 5K to a half marathon. Many races will even offer a short, one-mile race specifically for kids. If you can't find a race near you—or if you're just not up for the logistics of getting to the starting line on Thanksgiving morning—simply take a family jog around the neighborhood.
Need a break between turkey and pumpkin pie? Gather the family outside to go on a nature walk. Jot down a couple of items for everyone to look for—like acorns, red and yellow leaves, and pinecones. When you get home, you compare your findings. Who got the most leaves? The biggest pinecone? If you're feeling extra crafty, use that loot to decorate a homemade fall wreath.
Write a couple of prompts (think: "The best day of your life so far" or "Your most memorable holiday") and put them in a bowl. Gather everyone together and have each person select a prompt and share his or her answer. Some might be funny, some might be sentimental—but either way, you'll probably hear stories you've never heard before.
9. Play "Minute to Win It" Games
Short, silly, Minute-to-Win-It-style games are perfect for the entire family—and you can pull many of them together with things you already have on hand. For example, drop a handful of candy corn into a few tin pie pans, and then cover them with whipped cream. Give the players one minute to fish out all the candy corn—without using their hands. Or try this simple one: Put a cookie on the players' foreheads, and tell them they have to get it into their mouth using only their face muscles. No matter if you're a player or a spectator, you'll have a good time.
10. Create a Holiday Photo Backdrop
10. Create a Holiday Photo Backdrop
Encourage your family to get lots of pictures together by setting up a DIY photo backdrop. It doesn't have to be involved or expensive—hang a gingham tablecloth on the wall, for example, or ask your kids to create paper chains that you can drape across the wall. Add props like these if you're feeling extra festive, and then encourage your kids and family to take pictures throughout the day. (Here are some tips for taking great photos with your phone.)
Whatever you choose to do on Thanksgiving, make sure to document it through pictures. Years from now, you won't remember if the turkey was dry or who made the best pumpkin pie—but you will be able to look at your photos and remember all the fun you had that day.