Way Easier Than Macrame: Personalized Photo Albums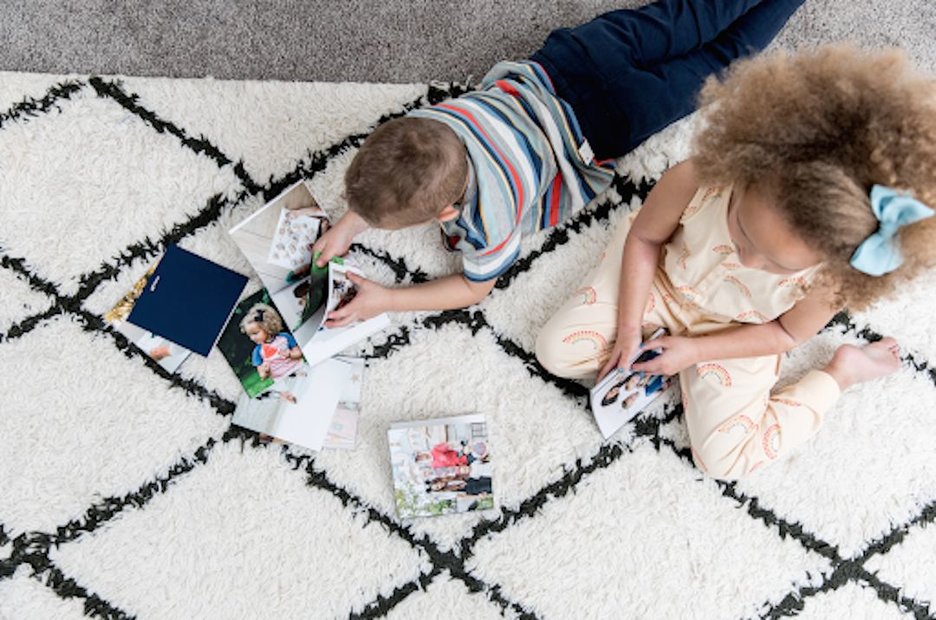 "It's the thought that counts!": well-meaning refrain of gift-giving, or a curse upon everyone who has ever found herself knee-deep in decoupage glue in an attempt to fabricate the world's best customized gift? You decide … once you find your way out of that pile of glitter glue.
Still, it's true—it is the thought that counts. The perfect gift is intimate (without digging yourself into an emotional labor debt), reasonably priced, and specific to the recipient. Enter a gift that hits all points: personalized photo albums.
"Photo books are a godsend," says Aileen Avery, author of Gift Rap: The History and Art of Gift Giving. "The more personalized a gift can be, the better it is, but not all of us can arts-and-crafts our way into it. If I tried to make a personalized photo album 20 years ago, it would have looked like a first-grader did it. But now I can make beautiful, professional photo books. It's great for those of us who are artistically challenged."
No matter whom you're trying to create personalized photo albums for, the simple act of doing so brings a meaningful, enduring gift into the world. And unlike the sordid jungle of many a craft closet, they won't feel like clutter—visually or mentally. They're easy to make with Chatbooks, and the app will guide you through creating your own custom photo book. To make the most of your personalized photo album gift, keep these tips in mind.
Family photo albums: Collect photos of what they love. People and places—that's a given. But consider collecting photos of your recipient's beloved hobbies. When a relative who is an avid quilter lost her home in a fire, Aileen jumped into action. "She'd spent decades making these beautiful quilts, and there's no way to replace those," Aileen says. "We started emailing people who knew her asking for photos of quilts we knew she'd sent to them over the years, and we put those photos in a photo book for her. She was blown away. And then a whole bunch of family members wanted copies of it, so it became almost like a family photo album—an heirloom."
Photo books for friends: Tell a story. A personalized photo album is a visual narrative, so consider shaping it like one and give it a beginning, a middle, and an end. If you're making photo books for friends, start with the first photo of you ever taken together, or go snap a picture of the place where you met. Or show a progression of the recipient's growth. Say your best friend is a runner—include a photo of her gasping at the finish line of her first race and of her triumphant at a more recent event.
Photo books for birthdays: Make it a series. If you're creating photo books for birthdays, consider making it an annual tradition—you can even begin the draft of your next photo book immediately, adding to it as you take photos, and print it the next year. And with the Chatbooks Monthly Minis, you can even curate your photos into a monthly softcover personalized photo album.
Gift ideas for grandma: Write a story. Your grandmother's handwriting reflects an era when the written word was how people conveyed intimacy, before Facebook was a twinkle in Mark Zuckerberg's eye. So even though you're telling a story in pictures, inserting text pages can shape the narrative. You can drop in a text page to simply establish where the next "chapter" of the story was taken, but you don't need to be too literal with it either. Try sprinkling in text pages sharing lessons you've learned from her. Better yet, leave some pages blank and write those lessons in your own handwriting once you receive the book. (And even if you don't do that, all of your gift ideas for grandma should come with a handwritten note. You may not have Palmer-perfect handwriting, but hey, times have changed.)
But here's the most important gift-giving tip of all: Just do it, and do it with as little stress as possible. "People tend to think that they have to give the perfect gift," Aileen says. "But it's really hard to be perfect in any realm, much less gift-giving, where you might find what you think is the perfect thing, only to find out that it doesn't really suit the person at all." (Score one for personalized photo albums. Unlike chocolate boxes and sweaters, they accommodate nut allergies and flatter everyone's complexion!)
In truth, most of us are overthinking it. "People generally like to get whatever they get. Think about gifts you've gotten—it's wonderful to just get a gift. There's more judgment on the part of the giver than the receiver." Your family photo album doesn't have to be perfectly designed for it to be a memorable gift. If you're worried you won't have enough time, start creating a personalized photo album right away and add photos to it steadily so that when the time comes, you can review the album and delete any pictures you decide aren't quite right.
Gift ideas for grandma, friends, birthdays—whatever the occasion, personalized photo albums from Chatbooks fit the bill. But if it's a potluck … well, we didn't say we had solutions for everything.