Making the Most of Baby's First-Year Photo Book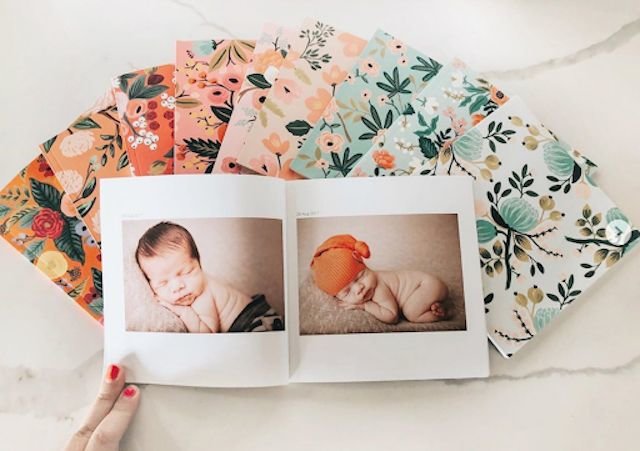 Babies are awful at smiling on command, they drool midshoot, and they have at-will naptime written into their modeling contracts.
Still, if overflowing smartphone storage is any indication, they're our favorite subjects. And if the amount of time we spend showing pictures to friends, family, acquaintances (frenemies, shop clerks, crossing guards, random passersby) is a reliable gauge, we love to have people swiping through our phones as they coo over our progeny. That's nice and all, but to make those photos pay emotional dividends, take a few extra minutes to make a printed photo book for baby's first year.
"I can't tell you how many of my clients have lost their digital photos," says Lauren Ridge, a newborn and family photographer and owner of Lily Sophia Photography in Atlanta. "They lost their hard drives and didn't back up their photos—and backups fail too. That's just reality." Printing out baby's first-year photo album serves as a tangible backup system. (Plus, a custom photo book makes a far better conversation piece than an external hard drive.)
Added security is great—but the real reason to print photos with a custom book like those at Chatbooks is that a printed version of baby's first-year photo book helps your brain make memories in a cohesive way. You might be able to appreciate an individual photo on screen just as well as you would when it's printed out. Still, your memory of the story told by that photograph—much less a series of photographs, strung together to create a story—is crafted more strongly when you see photos in printed form, according to research in New Media & Society. Think of your earliest childhood memories. How many of them were informed or reinforced by a printed photograph?
The best photo book is the one that exists, not the one that's painstakingly curated. Baby's first-year photo book doesn't need to be perfect—in fact, scratch the term "picture perfect" from your vocabulary. It's your baby, in a picture. Ergo, it's perfect.
Still, your baby's first-year photo album—imperfect as it may be—will benefit from a few basic photography tips. Read on to become the Annie Leibovitz of the infant set, and get started with Chatbooks.
Use a spotter. Until your baby has been able to sit unassisted for several weeks, use a spotter or prop up your baby with pillows and stuffed animals. If you prop up your child, photograph from above—if you snap a photo head-on, it gives the impression that your baby is leaning back.
Let there be light. As with all photos, natural light is best, or light cast from above. Be careful of lighting your baby from below. "I see up-lit baby noses everywhere on Instagram," Lauren says. "It looks like they're holding a flashlight and telling a horror story."
Capture details. Eyelashes, belly buttons, toes, earlobes—get in close and document details. "I have so many clients I photograph right after they're born, and they come back two weeks later and look completely different," Lauren says. "Babies change really fast, and you might remember some exact things that stood out to you, but you're not going to remember all the little details that you noticed at first." For a fun series of baby pictures month by month in the first year, photograph the same body parts in sequence each month.
Choose your moment … It's easiest to photograph newborns before the two-week mark, as they spend most of their time sleeping and are comparatively still. Around 24 weeks is another golden age, as babies can then hold up their own heads and sit up independently but aren't yet crawling.
… And know that every moment is a "moment." You'll probably be taking month-by-month pictures for baby's first year (and maybe even minute by minute). So you'll be capturing the moment when your precious angel flings cereal all over the floor, the first hints of sibling rivalry, and the tipping point of baby getting milk-drunk. Photogenic? Probably not. Memorable? Make it so. Chaos is a part of the first 12 months, so baby's first-year photo book can handle shades of pandemonium.
Hold the cheese. Attention-grabbers like colorful props have their place in getting an infant to look in the direction of the camera. But be careful about overusing photo prompts like "smile!" or "say cheese!" Babies might not understand the words themselves yet, but unnatural prompts set them up for unnatural smiles. "A lot of times pictures turn out weird and parents are like, 'Why do they look like that?' Because you taught them to!" Lauren says. "Just let them be themselves." If you want them to smile, make a goofy noise or otherwise entertain them.
Take a star turn. "It's very important for you to be in the pictures too, as your kids are growing," Lauren says. "Put them in your lap, sit by the window so you have some good light, and just talk to them and have your husband or a friend take some pictures, because all too often the mother is the one behind the camera." So #getinthephoto already!