10 Unique First Birthday Photoshoot Ideas You Can Create at Home
Capture their first birthday with these easy, unique ideas you can recreate at home. They only turn 1 once!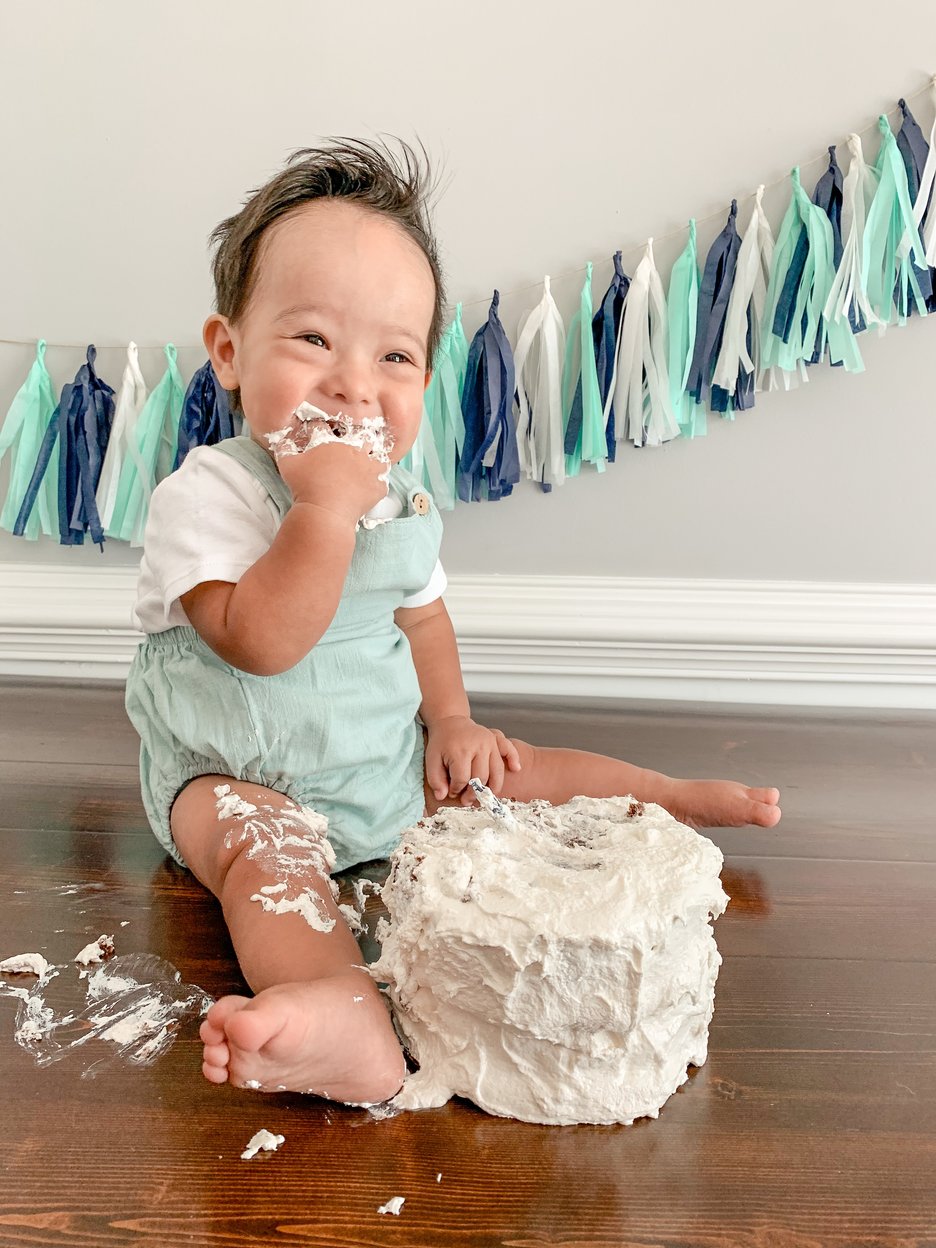 It doesn't matter if your baby won't remember their first birthday—you will! With so much planning ahead of you, it's safe to say you'll need some easy 1st birthday photoshoot ideas that you (or a professional) can easily create. Here's the good news: We've rounded up 10 unique first birthday photoshoot ideas that'll pull at your heartstrings. Read on to choose your favorite ideas for your infant's one year birthday pictures.
From baby books to birthday parties, your to-do list — and your camera roll — may seem to never end. After all that planning, and after all those celebrations (and let's not forget the first birthday photoshoot itself), you're going to have a lot of photos you'll want to display. Print your favorite photos in a super high-quality photo book, like a Layflat (and send your in-laws a copy in a Classic Photo Book).
Smash Cake
They love to put everything in their mouth, and this time it's parent-approved! Pick a cake (ice cream, pudding, whatever you want) and place it in front of your little one. Bonus: Add an unlit, number 1 candle for a cute photo op. Now all you have to do is let your baby smash (and eat!) for super sweet photos you'll be printing (and posting) for years to come. If you need more smash cake ideas, we've got you covered.
A Year in Pictures
If you have framed photos, or super cute covers of Monthbooks showing off your baby's growth over the past 12 months, line those pictures up behind your baby for the perfect backdrop! It's wild to think about how many milestones your little one has achieved since they came into this world — and how much they've grown before their first birthday.
First Items
Your baby's firsts are so important, and while they may not remember their first toy or pacifier, including those special items in a photo (either in the background or as something for them to hold) is a great way to remember those sweet childhood details. You can include items like their first stuffed animal to the baby blanket they won't stop dragging around—anything that holds sentimental value to make their first birthday photo super sweet.
Safari
If you've got a pint-sized animal lover at home, use their stuffed animals to create a safari-themed zoo! Dress your explorer in animal print, or go for a park ranger approach with greens and browns (and a nifty hat!). If you have a backyard or hit a park, or decide to hire a petting zoo, use those to your advantage for this one year birthday photoshoot.
Balloon Backdrop
Tape balloons of various sizes to a blank wall or a fun backdrop for baby pics that really pop! You can use balloons in your little's favorite color, or opt for hues that match your party's theme (greens for a dino theme, reds and yellows for a firetruck theme, etc.). Balloon backdrops are a great way to provide texture and bold color to your oh so cute photos.
Favorites
Raindrops on roses and whiskers on kittens, dinos and hot wheels and hot pink mittens… these are a few of my baby's favorite things! By the time their first birthday rolls around, they will have quite a few preferences when it comes to their ideal toy, snack and so much more. What better props to use in a first birthday photoshoot (and did I mention it might keep them from crying?!), then the items they love the most.
Birthstone
If you're unsure which color palette you should go with for baby's first birthday photoshoot, why not use their birth stone for inspiration? Jewel tones never go out of style, and using different shades for a monochrome color palette is definitely a 1st birthday photoshoot idea that's one-of-a-kind!
Sprinkles
Multi-colored and delicious, sprinkles are the perfect idea for a super sweet photoshoot. Use a background with all different colors and dress your little one in a rainbow. Use a sprinkle donut or cake to capture that sweet smile as they take their first bite. Or, fill up an inflatable kiddie pool and throw multi-colored balls in for a real-life dive into a pit of sprinkles.
Zodiac
If you're a big fan of astrology, use a backdrop of constellations that depict your little one's zodiac sign. Go one step further and include their sun, moon and rising signs — and depending on if you follow the Western Zodiac signs or Chinese Zodiac, let your little one play with a stuffed animal that represents either the month or year that represents their zodiac sign, respectively. Don your little in some star-studded attire and you got a stellar photo on your hands.
Down in the Dirt
Let's face it, your infant is always messy — why not embrace that while snapping their first birthday pictures? Whether you let them loose outdoors, in the pantry or in that big heap of laundry you've been meaning to fold, taking shots of your child in their true element is never a bad idea. And if you really want to go for a mess, let them find their inner Picasso with child-safe watercolor paints — you'll also get a new piece of art that you can snap and print in a photo book!
Go wild with your baby's first birthday photoshoot! This is the only time you'll be able to snap first birthday pictures — so we know settling on one idea can be super hard. And after all the time you spent picking out their outfits and each piece of decor, you're going to want to save every moment from their birthday. Print every pic from their one year birthday photoshoot, from the smash cake to presents, in a super high-quality photo book like a Layflat, or a beautiful Classic Photo Book!