How to Dress Your Family for a Holiday Photo Shoot With the Clothes You Already Have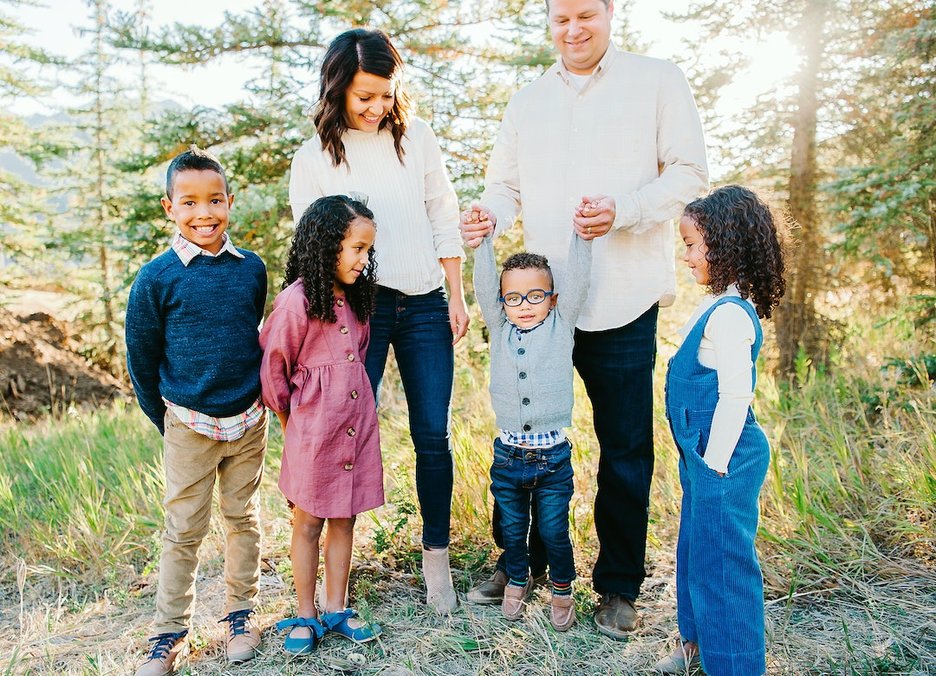 There's a lot riding on your holiday photo shoot. It's your opportunity to get the perfect shot to include on your annual holiday card—which will grace your friends' and relatives' refrigerators for months. Of course you want your family to look their best!
But in the middle of a busy (and pricey) holiday season, the last thing you want to add to your to-do list is buying new outfits for everyone.
Good news: You don't have to shell out any cash or leave the house to dress your family for your holiday photos—all you have to do is look in everyone's closets. It's 100% possible to pull together coordinated outfits from the clothes you already have.
And—bonus!—it might even result in better photos. "Kids are happier sitting for photos if most of their clothes are familiar and comfortable," says Jenn Mapp Bressan, stylist, author, and founder of Tiny Closet, Tons of Style and a mother of two.
Here's a playbook for making the most of what you already have.
Sure, the holidays may bring to mind images of fancy dresses, suits, and ties, but that's not the only way to add a festive spirit to your photos. "Don't assume your children need a brand new, head-to-toe 'holiday best' outfit," says Jenn.
Simply look for rich, seasonal colors and cozy textures, and use those pieces as the foundation for each outfit. "An evergreen sweater layered over a gingham collared shirt or a cozy red cable knit tunic dress can easily be paired with neutral staples, like denim or leggings, from your kids' closets," Jenn explains. "We live in a relaxed culture, so don't fight it—just make it festive."
Gone are the days of having everyone wear white shirts and blue jeans. For a more modern look, you don't want everyone's outfits to match—you want them to coordinate.
The easiest way to accomplish that is to select a color palette and plan your outfits around it. "A three- to five-color palette makes for interesting, dimensional photos," Jenn explains. Less than three shades risks looking too matchy-matchy; too many colors can look uncoordinated. Choose one to two seasonal colors, like red, green, or gold, plus neutrals like black, white, or denim.
Choosing a color palette gives you a wider range of options to choose from, which is especially important when you're digging through everyone's closets. Rather than trying to find everyone a shirt in the same color, for instance, you can consider a variety of items—tops, bottoms, jackets, shoes, and accessories—to match the colors in your palette.
Holiday Photo Shoot Color Palette Ideas
Check out some inspiration for clothing color palettes for your holiday photo shoots:
Solid colors look great in front of the camera—but surprisingly, patterns do, too. In fact, according to Jenn, "Prints are essential. Mixing patterns adds visual texture and sets a ho-hum family photo apart from one that looks professionally styled." Your daughter's dress with a large floral print, for example, could be paired with a more subtle gingham shirt on your son, as long as they're both in your color palette.
Of course, you shouldn't dress every member of the family in a bold pattern. But considering prints opens up the possibilities for what you can choose from your family's closets.
When in Doubt, Start With Mom
If you're having trouble coordinating several outfits from what you already have, take a step back and start with one standout patterned piece. Jenn specifically recommends starting with mom. "I always make sure mom feels pretty, comfortable, and confident in her look first—everything else comes together from there."
"Choose a dress with an interesting seasonal print to act as the focal point," she explains. Select three to four colors from the dress, and then build the rest of the family's outfits around those colors. Even if it's not a perfect match, don't worry. "You'll drive yourself crazy," she says.
Trust us: There are coordinated, photogenic clothes in your family's closets—even if it takes a little planning (and digging) to get to them. By choosing from the clothes you already have, you'll save time and money, and you'll help everyone be more comfortable in front of the camera. And that's key for quality, memorable photos.
____
Want more tips and tricks for your busy family? Join the Chatbooks #MomForce community on Facebook.
Ready to turn your family photos into a gift or memory? Chatbooks is the easiest way to turn your pictures into books. Take 10% off your order with code photobook10.