15 Affordable and Easy Ways to Upgrade Your Airbnb
Try these tips and tricks for a simple way to add a personal touch for your guests.
Unlike hotels, Airbnbs can provide a personalized, homey touch for guests looking to book a space that's comfortable and welcoming. Whether you're redecorating your Airbnb to be more alluring for families, or figuring out how to upgrade your Airbnb to create a romantic getaway destination for couples, there are plenty of easy and affordable ways to upgrade an Airbnb. Even better? You can upgrade your rental apartment or home in a way that adds a super personalized touch to make your guests' stay truly unforgettable.
From specialized, custom books with local restaurant recommendations to guest books where your travelers can log their experiences, there are a lot of different ways to put your own welcoming spin on your Airbnb. It's easy to customize beautiful photo books with different kinds of tips to make your guests feel right at home. Read on for 15 affordable and easy ways to upgrade your Airbnb.
No matter the reason for their stay, leaving a guest book for your visitors to write in (and leave their mark) is a great way to hear about your guests' experiences and adventures, and leave ideas for your next travelers! Make a Classic Photo Book and add pictures from around town, or use completely blank text pages, while leaving room for visitors to hand-write their thoughts.
Using a Classic Photo Book or Layflat, create a coffee table book filled with pictures and captions that detail the area surrounding your Airbnb. Your guests will love to know about local mountain ranges and kayaking spots to the best place to grab a slice and the coolest retro restaurant to grab a milkshake. Add in any details you like, just make sure to include photos!
Speaking of local hotspots, why not collect the menus from local restaurants and takeout joints? Your guests will love to see all their options in one spot, making it easy to figure out where to satisfy their cravings or challenge their palette. Compile all the local options by screenshotting and printing menus onto text pages in a Classic Photo Book.
Customize a Tourism Guide
Create your own tourism guide with must-see destinations and events. Include pictures and details on local trails and hikes, parks and stores family may love, and any information on local events, concerts or festivals that happen annually (that way, you don't have to update your guide too often). Spend a few minutes easily customizing your Airbnb's guide by creating your own book.
Get into the weeds of your Airbnb's hidden gems by making a photo book with your own personal photos. Add photos of your fave spots in town, like your favorite place to grab chocolate chip pancakes (along with a pic of you digging in!), and a great spot to catch an outdoor movie. Adding details about your favorite spots and including your own photos and thoughts adds a really personal touch that your guests will love!
Looking for a modern way to leave house information like rules on temperature, noise, cleanliness and more? Aside from leaving a page on the fridge, you can class up your house rules by writing them out and printing them in a customized House Rules book. Add photos of your Airbnb, so it's clear what your space looked like before your guests arrived, and how you expect it to look upon their check out.
Speaking of check out, it's important to make sure your guests are clear on the times, rules and expectations of their stay. You'll want to make sure you have time to clean and restock between guests, so it's imperative your guests know what they'll need to do upon leaving (for example, do they need to turn off all the lights and reset the thermostat?). In a custom check in and check out book, you'll be able to leave clear instructions with photos for your guests.
There's no better place to showcase reviews from previous guests than the home those guests once enjoyed! With permission, create a Guest Review book that includes pictures from guests that have been posted online or shared with you from during their stay, plus include their reviews, especially if they have great examples of adventures and experiences they tried —maybe your future guests will get some ideas!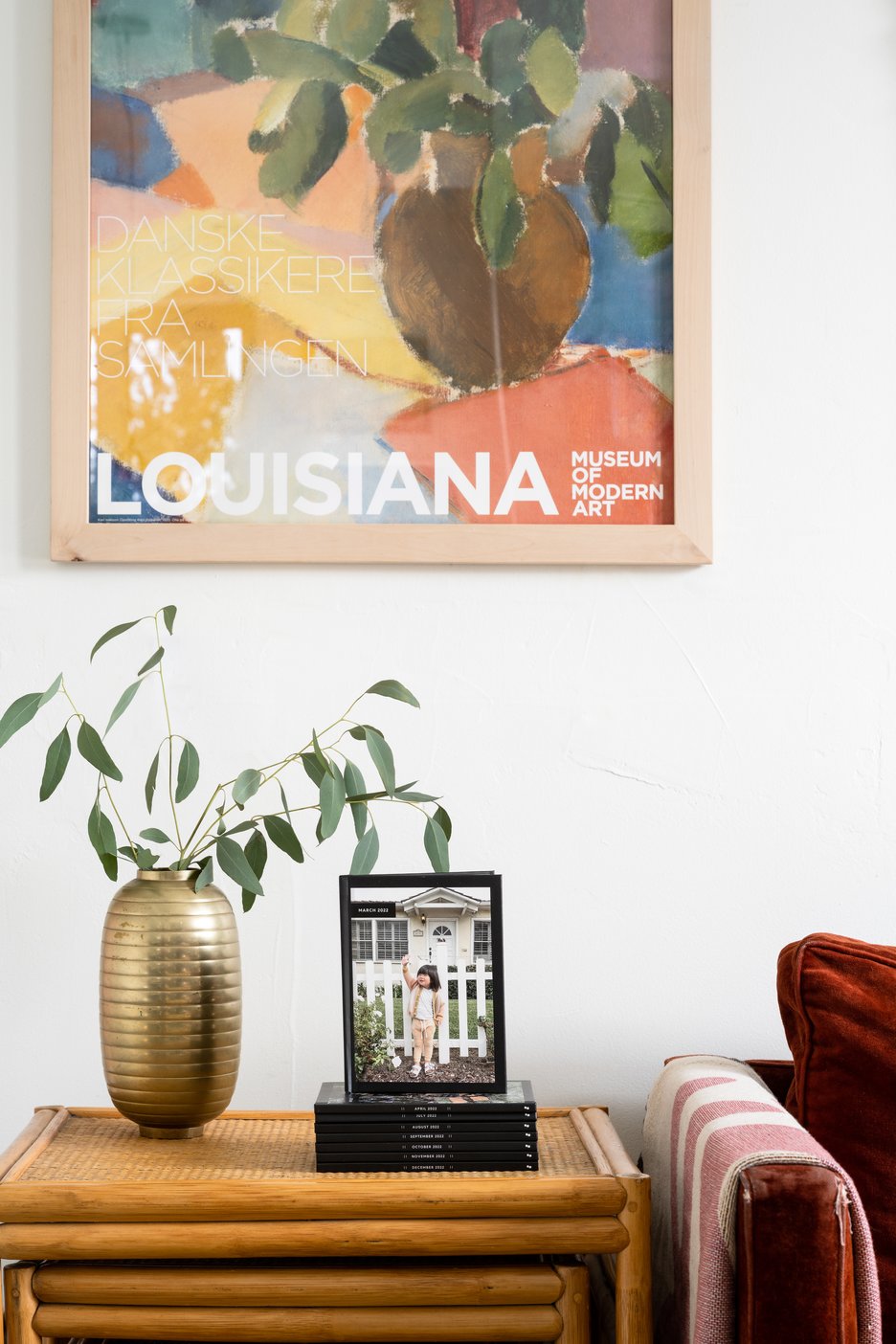 Get a giant pack of mini waters and snacks like chips from a wholesale store like Costco and add a little welcome basket with treats for your guests to enjoy during their stay. This little personal touch will make your guests feel special.
From twinkle lights to a greenery wall with a neon sign, there's so many ways to create a cute "photo moment" within your Airbnb. This is a great way to become an Airbnb destination, as people become familiar with your space and find themselves wanting to take photos in front of your wall! Offering a great spot to capture photos and share online (and tag your Airbnb), is a great way to drive interest in your listing. For any guests who share these photos with you or online (and with their permission), you can create a guest book filled with photos of previous guests' poses to keep in your Airbnb.
Add an Electric Fireplace
If your Airbnb doesn't have a fireplace, cozy your space up with an electric fireplace. It adds a great ambience for cold winter nights, and is a great romantic aspect for any couples looking for a getaway. You don't need to go big or expensive for this one, just a small fire feature that'll warm your guests up and add a beautiful feature to your place.
Whether you choose real or fake plants, adding pops of greenery around your space is a great way to make it feel homey and inviting. From the bedroom to the bathroom and kitchen to living space, adding some small (or go large!) green plants will go a long way to upgrade your Airbnb.
Leave a Mint on the Pillow
For this suggestion, no, you don't have to leave a mint on the pillow, but the classic candy-on-the-pillow bit is a super thoughtful and cute way to make your Airbnb feel fancy, while adding a sweet touch. While you may not offer turndown service like a 5-star hotel, leaving a mint or small chocolate on your guests' pillow will bring a smile to their faces.
Just in case your guests forget some of their main necessities, it's great to have items like toothbrushes, toothpaste, mouthwash, shampoo, conditioner, body wash and sanitary products on hand for any guests who may need them in a pinch. The thoughtfulness will go a long way with your guests!
Whether you add an outdoor rug, some chairs and a table and some fairy lights, or go all out with a mini fire pit and a wicker couch, having an outdoor space for your guests to use can be a super appealing part of your property. It's a great photo op, not to mention a great place to enjoy breakfast in the morning on a beautiful day, or curl up at night and laugh with family and friends.
For guests looking for a comfortable, clean and unique experience outside of a small hotel room, your Airbnb is the perfect opportunity to provide that personalized, home away from home. Whether you're hosting families or couples, there are plenty of easy and affordable ways to upgrade an Airbnb, including creating custom books tailored to your destination. Remember: Your Airbnb is the perfect place for your guests to make new memories!