The 100 Club: How to Become a VIP Chatbooks Member
Special offers, swag and customer service for our most loyal customers.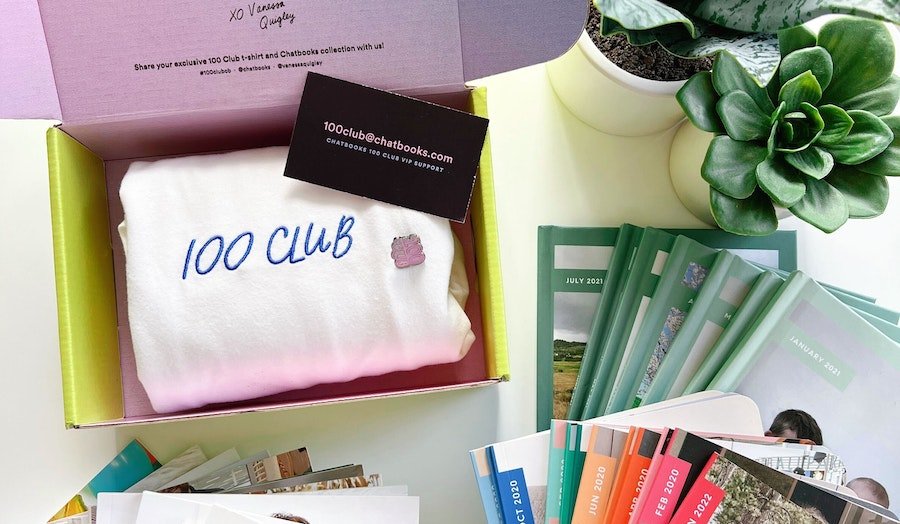 You may have heard about it in No Judgment Zone, seen the group on Facebook or heard about it from a fellow Chatbooker or friend — the rumors are true! The Chatbooks 100 does exist. This VIP community was created to celebrate our loyal customers and subscribers with special promotions, exclusive customer support and other fun perks. Here's what you need to know about The 100 Club…
Once you've ordered 100 Chatbooks photo books, you'll be invited to The 100 Club — and receive quite a few perks! We wanted to thank our top Chatbookers for capturing their everyday magic with our photo books. The 100 Club is a place to voice ideas, display collections and talk with a community of friendly Chatbookers.
Yes, there's no cost to join! As a loyal Chatbooks customer, this is a thank you from us, and a way for us to give sneak peeks, promotions, events and other surprises to our most dedicated Chatbookers.
You'll be invited to an exclusive group on Facebook tailored toward our 100 Club members. You may be asked to give opinions on products, see previews of new products or find special promotions and other surprises that Chatbooks or Chatbooker-in-Chief Vanessa Quigley may drop in the group. And whether or not you decide to join the private group, you'll still receive swag and have access to your own personal Chatbooks concierge for any support you may need (communicated via email).
Of course! New members receive a membership card, 100 Club pin and t-shirt in a super cute box. And that's just when you join…
I want in. How do I know how many books I've printed?
On the home tab in the Chatbooks app, once you've logged in, look below your profile picture. There, you can see how many books you've already printed.