Meet Our Designer Cover Artist: Bestselling Author and Illustrator Meera Lee Patel
I made my new Designer Cover collection with soothing colors and earthy sentiments.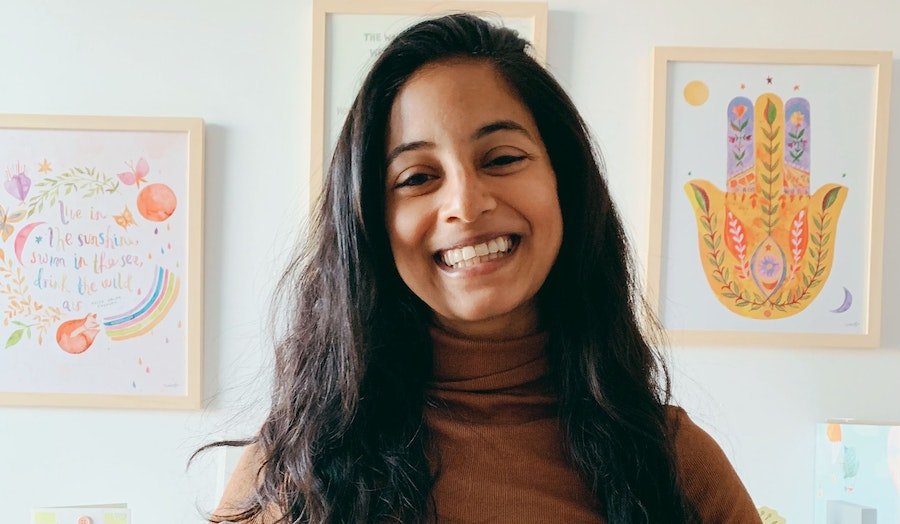 Hey there! I'm a best-selling author of several books on mental and emotional health, including my most recent one, Create Your Own Calm. When I'm not doing watercolor paintings, I'm slowly renovating the Nashville, Tennessee home I live in with my husband, Trevor, and 3-month-old daughter, Nadi.
I was pregnant with Nadi in 2020, which brought its own set of challenges. With 2021 upon us, here are my tips to heal from a hard year and live your best life in the new one!
Feel all the feels.
During the pandemic, it felt like the difficult parts of pregnancy were emphasized since the exciting parts of pregnancy (like gathering with friends) no longer existed to neutralize them. Let yourself feel those hard feelings, and then find tools that help you move through them. The Poetry Remedy by William Sieghart was a comforting salve for me — it pairs poems with difficult life moments.
Get creative with connection.
I'm spending more time out in nature taking photos and, when they remind me of someone, I'll text it to the person with a little note letting them know I'm thinking of them. Another way to connect: By sending a Chatbook to a loved one. I made my new Designer Cover collection with soothing colors and earthy sentiments, so that they can be the perfect binding for your favorite photos.
Journal your heart out.
I rely on the exercises in my latest book, Create Your Own Calm: A Journal for Managing Anxiety, to help me identify, explore, and quell pockets of anxiety and boost my overall mental health. The most radical form of self-care is being exactly who you are, and that means allowing yourself to change—leaving behind the things that no longer serve you and cultivating new perspectives.
Have ALL the adventures!
I love this interview with prolific illustrator and mother of 2, Dahlov Ipcar. As a workaholic, I carried a lot of fear about how my career would change once I had children. Dahlov said that it was up to her to create the life that she wanted to live, and that has been an inspiring reminder that parenthood isn't going to take the life that I previously loved away from me. It's simply another adventure.
Turn up your traditions.
This year, I'm starting a new tradition of taking daily walks with my daughter and continuing the practice of being curiously open—letting ourselves be surprised and transported by the simple wonder of what surrounds us.