Jamie Kern Lima of IT Cosmetics Talks About Her Journey from Waitress to Billionaire Makeup Mogul
"I think being a mom is way harder than being CEO of a billion dollar company."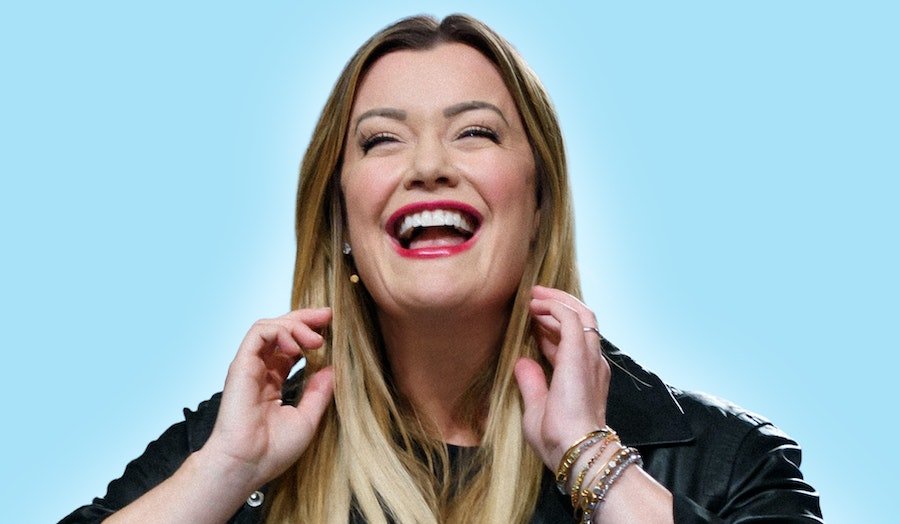 Jamie Kern Lima faced countless rejections before finally finding success with her beauty company, IT Cosmetics. Driven by the desire to create makeup products that would work for everyone, Jamie was one of the first leaders in the beauty industry to use real women as models. After growing her company for 10 years, IT Cosmetics was ultimately bought by L'Oreal for 1.2 billion dollars - in cash!
Jamie stopped by The MomForce Podcast to talk about her battle with perfectionism and how she finally found the confidence to believe in herself!
You sold your company to L'Oreal! So exciting! What was your journey up until that moment?
A lot of people see the outcome today, right? They're like, "Oh wow, IT Cosmetics!" But the first three years was really every single retailer saying no. Every beauty expert saying no. They didn't like my packaging or they didn't think that people would buy makeup from models that were real women. For three years they wanted me to change who I was and it was just no after no after no. And so, after hearing hundreds and hundreds of no's we got down to a thousand dollars in our bank account. And when we finally started getting traction and getting success, I think that I almost couldn't believe it for a while.
Did you ever feel imposter syndrome in the process of growing your business from the ground up?
Yes, I went through a big season of imposter syndrome where I thought, okay, oh my gosh, we're selling really well. I've got to strike while the iron's hot. I can't believe this is happening. And all of a sudden everyone wants us — and I ended up [working] hundred-hour weeks for almost a decade. Until I really realized the price you pay for that. And I don't think even [with] the outcome we had, I needed to have done that. So it's actually one thing I would do differently.
For a while you said you were embarrassed about being named at the top of the Forbes Richest Self-Made Woman List. Why?
I wouldn't talk about it for three years. Every time I was at a big event and they wanted to introduce me, I'd have them take it off of the intro, or I would change the word from richest to most successful. And then I had this big, huge epiphany where I realized if we all keep dimming our lights, then we're not going to be the example that shows other little girls and women what's possible for them, too. I was raised by really beautiful, well-intentioned loving women, who were also raised this way — which is to dim your light and call it humble or you're bragging. And I just realized, I don't think that's right. I'm not going to accept that anymore.
Why did you decide to write your book Believe IT?
I think when we all share the real stuff, the stories behind the stories, it helps us feel less alone and [that we're] enough and unstoppable and all those things. What happened in my journey, and really why I wanted to write this book, was to share all the stuff I did right. But also all of the stuff I did wrong.
In the book, you talk about a conversation you had with storied former eBay CEO Meg Whitman. Can you talk a little more about that exchange?
I said: Meg, have you ever worried about body image? I explained to her that I feel like so many women waste so much time and energy thinking about this. There was a long pause and then she just looked at me and said no. She goes, no, something has to give. And she said, I've really focused on raising my kids and building my career, so I can't keep my house the way Martha Stewart might. And I just don't worry about body image. She goes, something has to give — and it reminded me of the famous quote that anything we spend time on comes at the price of something else.
Listen to the full MomForce Podcast episode for more of Jamie's story. Check out her new book Believe IT and follow her on Instagram.