35 Happy New Year Messages and Quotes to Wish Your Loved Ones Well in 2023
"Nights will be dark but days will be light, wishing your life to be always bright. Have a happy New Year!"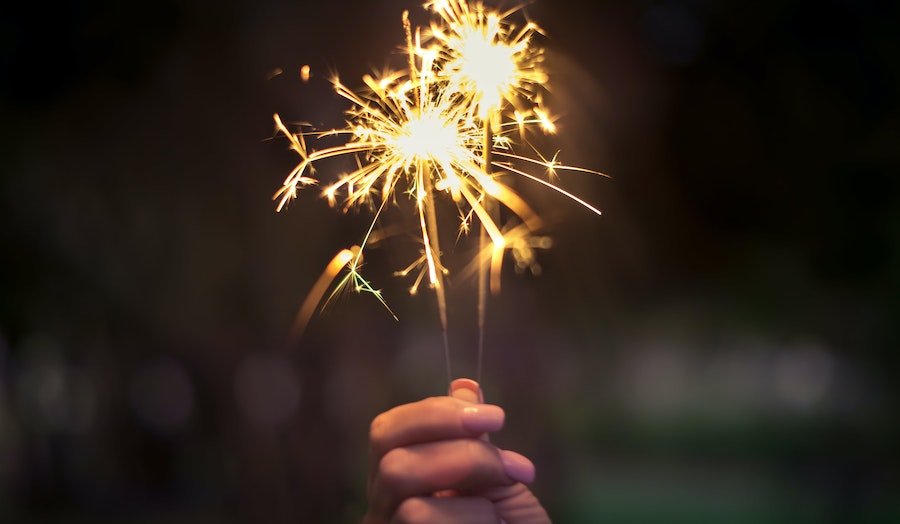 Before you start thinking about New Year's resolutions of healthier eating, monthly GNOs and daily walks at the park with your kids — focus on celebrating the turn of 2022 into 2023! Whether you like to celebrate before or after the clock strikes midnight, New Year's messages come in many forms — whether it's a card, a text, a Yearbook or a kiss at midnight. If you're too busy planning the perfect party, or just completely stumped on what to say to friends and family this New Year's Eve or Day, you're in luck! We've rounded up the best "Happy New Year" messages — from religious to funny messages, pick whichever one makes you feel the most unique and creative. Send it with a party popper emoji via text or add it as the perfect caption to your Instagram Reel. Read on for the best New Years messages and wishes for an amazing 2023...
Feeling nostalgic? You can celebrate the clean slate of a new year while paying homage to the great memories from the one before — and free up a lot of storage space on your phone — by printing all of your 2022 photos into a Yearbook. Add text pages with your favorite messages and wishes so you and your family can remember all the big events and everyday moments — plus, you can print another copy and send it to your grandparents!
I don't know about you, but this year, I'm feeling... '23!
Gather up your kitchen appliances—we're getting ready to toast! Happy New Year!
Try to relax in the new year...and don't think about all of the resolutions you're supposed to be starting!
Happy 2023, so glad we're able to spend time together after a whole year!
Happy New Year! Another year of mistakenly thinking it's still 2022.
Remember when we were young and wanted to stay up for New Year's Eve? Now we're old and all we want to do is sleep.
May your dreams get fulfilled as well as your bills. Best of luck with the New Year, friend.
Don't ask about my new year's resolutions because all my past resolutions are yet to be done. Have a blessed new year!
May this new year bring you more money so that you can buy expensive gifts for me. Happy new year!
The funniest part of a new year is making new resolutions. I can't even remember my resolutions from last year. I wonder if I completed them!
I would quit all my bad habits for the new year, but then I remembered that nobody likes a quitter.
I'm so excited for the new year. Unfortunately, I don't have any resolutions to make since I'm already perfect.
Families are like fudge—mostly sweet with a few nuts. Happy New Year!
The best part about making New Year's resolutions is breaking New Year's resolutions. Can't wait to mess up with you in the new year!
Happy New Year! Here's a New Year's wish from someone who's adorable, handsome, and intelligent and wants to see you always laughing.
Here's to having a fresh start at binge eating, boozing, and slacking off.
Happy New Year, friend. I hope you saved some champagne because I'm going to need something to drink with you.
To a New Year full of new possibilities, even though I'm sure we'll just do the same old stuff anyway.
I've been waiting 365 days to say "happy New Year" since I had so much fun saying it last year. Happy New Year, Friend!
Happy New Year! Here's to another year pretending that I like you.
This year, I wish that you'll finally learn how to use your smartphone properly.
Happy New Year and good luck in the next year! We'll both need it...
May this New Year bring actual change in you, not a recurrence of old habits in a new package.
Wishing you 12 months of success, 52 weeks of laughter, 365 days of fun, 8,760 hours of joy, 525,600 minutes of good luck, and 31,536,000 seconds of happiness.
Many people look forward to the New Year for a new start on old habits.
Every year we try to diet and exercise. Maybe this year our plans will actually work. Happy New Year!
A New Year is the chance to start over with a clean slate. Too bad my credit card won't start over with a blank slate.
Sentimental New Years Messages
Every year we make resolutions that we vow to keep. This year, my only resolution is to spend more time with you.
May this be your best year yet.
Whatever the new year has in store, we'll be in it together. Happy new year to the love of my life.
We all get the exact same 365 days. The only difference is what we do with them.
You made last year so special for me. It's my greatest wish that this new year be special for you.
Wishing a very Happy New Year to the one who adds sunshine to our family!
My sister, my first friend, my constant support: This year, I wish you all of the blessings you truly deserve. I love you!
May love and laughter fill your New Year.
Wishing you a happy New Year! May it be filled with new adventures and good fortunes.
Last year we got older and slower — and had a great time doing it. Let's make sure we do the same in this New Year.
A family like ours lights up every year with happiness and joy! I'm so happy we're both a part of it. Happy New Year.
Time flies when you're with the love of your life. Cheers to another year together — and forever to go!
During the New Year, I hope to show you the love and warmth you show me. Wishing you a very Happy New Year.
Know that whatever 2023 brings, I'll be there for you. Can't wait to see what the coming year holds.
As we step into another year, I'd like to thank you for lifting me up whenever I'm down and encouraging me to move forward. Have a beautiful year!
Now, in the New Year, we look back upon warm memories. You've had a hand in every wonderful memory I have, Mom. Happy New Year!
Another year has passed, and I hope that with every year, you achieve all of your dreams. Happy New Year!
The New Year comes and goes, but our bond will last a lifetime. Excited to see what 2023 has in store for us!
Happy New Year, Grandma. I wish you a bright New Year, just like every year we've enjoyed together has brightened my life. Thank you.
I'm so excited to make new memories with you. Let's make this year even better than the last one.
Life changes, but my wish for you remains the same—I wish you happiness, good health, and well-being from the bottom of my heart. Happy New Year!
This time of year, it's important to be with friends and spend time together. I'm excited to ring in the new year with you.
I'm grateful for all the memories we've created this year and the ones we'll make in the new year.
Years come and go, but what makes them worthwhile is someone's unconditional love, wonderful memories, and a passion for life. You've given me all of these and much more in the past year, and I know there'll be more to come in the year ahead.
This year, may we continue to share the genuine friendship that adds happiness and warmth to even the most mundane days.
Out with the old, in with the new. May the New Year bring you prosperity and good fortune.
I hope this year gives you confidence and courage, and that you soar to your dreams! Live your life to the fullest extent, happy New Year!
To my awesome brother: Thank you for the fun (and sometimes embarrassing) memories we shared this year and in the past. Let's keep that tradition going in the upcoming year. Happy New Year.
Embrace the New Year with an open heart and a fierce spirit. Cheers to new horizons!
Another year filled with success and happy moments. With every new year comes greater challenges and obstacles in life. This year, I wish you courage, hope and faith to overcome any hurdles you may face. May you have a great year and a wonderful time ahead!
As I approach the new year, I always think of the gifts my parents have given me. Though we're miles apart, you're always in my thoughts. Happy New Year.
Traditional New Years Messages
Counting my blessings and wishing you many more this upcoming year. I hope you enjoy the New Year!
May this year be filled with new happiness, achievements, and motivation within your life. Wishing you a year of joy!
Wishing every day of the new year to be filled with success, happiness, and prosperity for you. Happy New Year.
Nights will be dark but days will be light, wishing your life to be always bright. Have a happy New Year.
Let's look back at the past year with the warmest of memories. Happy New Year!
Another year filled with sweet memories has gone by. You've made this year one-of-a-kind, and I know that with you around, next year will be just as joyous! I hope you have a year as incredible as you are!
On this New Year, may you change your direction and not dates, change your commitments and not the calendar, change your attitude and not the actions, and bring about a change in your faith, your force, and your focus and not the fruit. May you live up to the promises you have made and may you and your loved ones have the happiest New Year ever.
May the new year bring you warmth, love, and light to guide your path to a positive destination.
Wishing you a Happy New Year with the hope that you will have many blessings in the year to come.
I resolve to stop wasting my resolutions on myself and use them to repay you for the love you've shown me. Happy New Year!
Out with the old, in with the new: may you be happy the whole year through. Happy New Year!
Let the old year end and the New Year begin with all the joy of the season. Have a Happy New Year!
On this New Year, I wish that you have a superb January, a dazzling February, a Peaceful March, an anxiety-free April, a sensational May, and joy that keeps going from June to November, and then round off with an upbeat December.
Motivational New Years Messages
As the New Year begins, I hope it's filled with the promises of a brighter tomorrow. Happy New Year!
On the road to success, the rule is always to look forward. May you have a wonderful journey as you reach your destination. Happy New Year!
End each year with a few good lessons and start this one by showing that you've learned from the lessons of the past.
We will open the book of blank pages and write the words ourselves. The book is called Opportunity, and its first chapter is New Year's Day.
At precisely the moment you feel like giving up, victory is always within reach. Remember this moving into the New Year.
As the New Year approaches us with hopes anew, here's to wishing you and your family a wonderful year ahead.
Every end marks a new beginning. Keep your spirits, determination and wits about you, and you shall always succeed. With courage, faith and great effort, you shall achieve everything you desire. Happy New Year!
We're supposed to let go of the past and start anew. We're also supposed to forgive all those who have hurt us and be open to new relationships. That is why it is called the 'new' year. May you have a Happy New Year.
The New Year has brought another chance for us to set things right and to open up a new chapter in our lives.
Unlike what most people think, it's never too late to be what you wish to be.
A New Year is like a blank book, and the pen is in your hands. It's your chance to write a beautiful story for yourself. Let's make this a happy New Year.
No one can go back in time to change what's happened, so work on your present to make yourself a wonderful future.
Failure doesn't influence your inner resilience, and failing simply means that you've discovered another way to move your life forward. Profit from it.
Quotes for New Years Messages
"Cheers to a new year and another chance for us to get it right." —Oprah Winfrey
"May your most used attire in the New Year be a smile." —Anonymous
"This is a new year. A new beginning. And things will change." —Taylor Swift
"Happy New Year now and always!" —Anonymous
"If you asked me for my New Year Resolution, it would be to find out who I am." —Cyril Cusack
"May all your troubles last as long as your New Year's resolutions." —Joey Adams
"Tomorrow, is the first blank page of a 365-page book. Write a good one." —Brad Paisley
"In the New Year, may your right hand always be stretched out in friendship, never in want." —Anonymous
"We must always change, renew, rejuvenate ourselves; otherwise, we harden." —Johann Wolfgang von Goethe
"May the New Year see you loving, giving, and living!" —Anonymous
"Making resolutions is a cleansing ritual of self-assessment and repentance that demands personal honesty and, ultimately, reinforces humility. Breaking them is part of the cycle." —Eric Zorn
"May your teeth be white, your eyes be bright, and your capacity for love at its height!" —Anonymous
"Have a wonderful New Year surrounded by those that mean the most!" —Anonymous
"Hope smiles from the threshold of the year to come, Whispering 'it will be happier." —Alfred Tennyson
"Write it on your heart that every day is the best day in the year." —Ralph Waldo Emerson
"May the New Year bless you with health, wealth, and happiness." —Anonymous
"We spend January 1 walking through our lives, room by room, drawing up a list of work to be done, cracks to be patched. Maybe this year, to balance the list, we ought to walk through the rooms of our lives… not looking for flaws, but for potential." —Ellen Goodman
"May you fill your New Year with new adventures, accomplishments, and learnings!" —Anonymous
"An optimist stays up till midnight to see the New Year in. A pessimist stays up to make sure the old year leaves." —Bill Vaughn
"For last year's words belong to last year's language and next year's words await another voice." —T.S. Eliot
"Wishing you a happy, healthy New Year." —Anonymous
"A New Year's resolution is something that goes in one Year and out the other." —Anonymous
"How few there are who have courage enough to own their faults, or resolution enough to mend them." —Benjamin Franklin
"We will open the book. Its pages are blank. We are going to put words on them ourselves. The book is called Opportunity, and its first chapter is New Year's Day." —Edith Lovejoy Pierce
"May you have a prosperous New Year." —Anonymous
"It wouldn't be New Year's if I didn't have regrets." —William Thomas
"The changes in our life must come from the impossibility to live otherwise than according to the demands of our conscience, not from our mental resolution to try a new form of life." —Leo Tolstoy
"Drop the last year into the silent limbo of the past. Let it go, for it was imperfect, and thank God that it can go." —Brooks Atkinson
"A cat's New Year dream is mostly a bird! Don't be like a cat; in your New Year dream something that you have never dreamed. Target for new things." —Mehmet Murat İldan
"Good resolutions are simply checks that men draw on a bank where they have no account." —Oscar Wilde
"The object of a new year is not that we should have a new year. It is that we should have a new soul." —G.K. Chesterton
"Never tell your resolution beforehand, or it's twice as onerous a duty." —John Selden
"Learn from yesterday, live for today, hope for tomorrow." —Albert Einstein
"Be always at war with your vices, at peace with your neighbors, and let each new year find you a better man." —Benjamin Franklin
"Here's to a bright New Year and a fond farewell to the old; here's to the things that are yet to come, and to the memories that we hold." —Anonymous
"My New Year's Resolution List usually starts with the desire to lose between ten and three thousand pounds." —Nia Vardalos
"Character is the ability to carry out a good resolution long after the excitement of the moment has passed." —Cavett Robert
"Although no one can go back and make a brand new start, anyone can start from now and make a brand new ending." —Carl Bard
"I think I made too many New Year's resolutions this year. It took me almost a full day to break them all." —Anonymous
"One resolution I have made and try always to keep is this: To rise above the little things." —John Burroughs
"One thing with gazing too frequently into the past is that we may turn around to find the future has run out on us." —Michael Cibeuko
"I can't believe it's been a year since I didn't become a better person." —Anonymous
"Always bear in mind that your own resolution to succeed is more important than any other." —Abraham Lincoln
"The bad news is time flies. The good news is you're the pilot." —Michael Altshuler
"Let our New Year's resolution be this: we will be there for one another as fellow members of humanity, in the finest sense of the word." —Goran Persson
"Year's end is neither an end nor a beginning but a going on, with all the wisdom that experience can instill in us." —Hal Borland
"May you live as long as you want and never want as long as you live!" —Anonymous
"My New Year's resolution is to stop hanging out with people who ask me about my New Year's resolutions." —Anonymous
"Each year's regrets are envelopes in which messages of hope are found for the New Year." —John R. Dallas Jr.
"You are never too old to set another goal or to dream a new dream." —C.S. Lewis
"Here's a toast to the future, a toast to the past, and a toast to our friends, far and near. The past a bright dream; may our friends remain faithful and clear." —Anonymous
Religious New Years Messages
May you and your family have a blessed New Year.
May God bless you with a safe, healthy, and joyous New Year.
Sending you well wishes and praying for you in the coming year!
May God bless your family with prosperity, good health, and happiness in the New Year.
May God help you strengthen your bond with family and friends this New Year.
As we start the New Year, let's get down on our knees to thank God we're on our feet.
I wish God blesses you with the might to take every problem head-on and emerge unscathed.
Enjoy this special time of year with those you love, and may the Lord bless you all with a happy and healthy New Year.
I'm blessed to know that I have friends like you in my life this New Year. Here's to many years to come!
May we all be blessed with another New Year full of friends, family, and success.
Praying that you and your family have a happy and healthy New Year!
May the Lord ensure you get success in your career and resolve all conflicts this year.
Happy New Year! May you have a blessed New Year full of success, service, and love!
May the Lord empower you with confidence and faith to do well amidst competition.
Bible Verses for New Years Messages
"For I know the plans I have for you," says the LORD. "They are plans for good and not for disaster, to give you a future and a hope." Jeremiah 29:11
Be still in the presence of the LORD, and wait patiently for him to act. Don't worry about evil people who prosper or fret about their wicked schemes. Psalm 37:7
In his heart a man plans his course, but the Lord determines his steps. Proverbs 16:9
Let us then with confidence draw near to the throne of grace, that we may receive mercy and find grace to help in time of need. Hebrews 4:16
Go, eat your bread with joy, and drink your wine with a merry heart, for God has already approved what you do. Ecclesiastes 9:7
Every good and perfect gift is from above, coming down from the Father of the heavenly lights, who does not change like shifting shadows. James 1:17
Besides this you know the time, that the hour has come for you to wake from sleep. For salvation is nearer to us now than when we first believed. The night is far gone; the day is at hand. So then let us cast off the works of darkness and put on the armor of light. Let us walk properly as in the daytime, not in orgies and drunkenness, not in sexual immorality and sensuality, not in quarreling and jealousy. Romans 13: 11-13
Yet those who wait for the LORD will gain new strength; they will mount up with wings like eagles, they will run and not get tired, they will walk and not become weary. Isaiah 40:31
Then I will sprinkle clean water on you, and you will be clean. Your filth will be washed away, and you will no longer worship idols. And I will give you a new heart with new and right desires, and I will put a new spirit in you. I will take out your stony heart of sin and give you a new, obedient heart. And I will put my Spirit in you so you will obey my laws and do whatever I command. Ezekiel 36:25-27
So we say with confidence, "The Lord is my helper; I will not be afraid. What can mere mortals do to me?" Hebrews 13:6
Your path for this year is blessed by God. May He help light the way to prosperity and peace.
He has made everything beautiful in its time. He has also set eternity in the hearts of men; yet they cannot fathom what God has done from beginning to end. Ecclesiastes 3:11
Praise be to the God and Father of our Lord Jesus Christ! In His great mercy He has given us new birth into a living hope through the resurrection of Jesus Christ from the dead. 1 Peter 1:3
Look to the Lord and His strength; seek His face always. Remember the wonders He has done, His miracles, and the judgments He pronounced… 1 Chronicles 16:11-12
Our fathers disciplined us for a little while as they thought best; but God disciplines us for our good, that we may share in his holiness. No discipline seems pleasant at the time, but painful. Later on, however, it produces a harvest of righteousness and peace for those who have been trained by it. Hebrews 12:10-11
The unfailing love of the LORD never ends! By his mercies, we have been kept from complete destruction. Great is his faithfulness; his mercies begin afresh each day. I say to myself, "The LORD is my inheritance; therefore, I will hope in Him!" Lamentations 3:22-24
As 2 Corinthians 5:17 says, "Therefore, if anyone is in Christ, the new creation has come: The old has gone, the new is here!"
God's grace will continue to be with you in the New Year.
Be anxious for nothing, but in everything by prayer and supplication with thanksgiving let your requests be made known to God. Philippians 4:6
Remember not the former things, nor consider the things of old. Behold, I am doing a new thing; now it springs forth, do you not perceive it? I will make a way in the wilderness and rivers in the desert. Isaiah 43:18-19
Glory be to God and your loved ones in the New Year and beyond.
No, dear brothers and sisters, I am still not all I should be, but I am focusing all my energies on this one thing: Forgetting the past and looking forward to what lies ahead, I strain to reach the end of the race and receive the prize for which God, through Christ Jesus, is calling us up to heaven. Philippians 3:13-14
Cast all your anxiety on Him because He cares for you. 1 Peter 5:7