30 Fourth of July Quotes to Help You Celebrate This Year
As you shed a tear watch Old Glory flying in the wind as a bald eagle soars above, be sure to choose from one of these amazing patriotic quotes for celebrating America's birthday.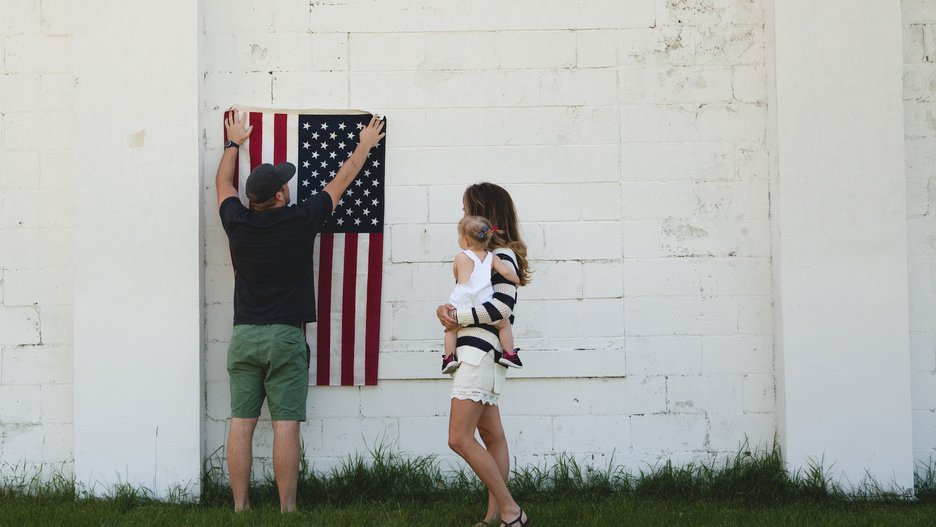 Summer lovin', had me a blast... and you're definitely in summer mode by the time the 4th of July rolls around. From BBQs and cannonballs into the pool, summer is a way of life. If you look forward to celebrating the Fourth of July, odds are you'll want to post a selfie on the beach or share a photo of your squad around the bonfire. That's where these great quotes about America and patriotism come in. These Independence Day quotes are perfect for your photos of fireworks and cookouts. They're also great to include as the title of your summertime photo books or as text pages and captions. As they say, summer lovin', happened so fast — so make sure you're holding onto your summer memories and not leaving those photos in a camera roll graveyard! Read on for a bunch of funny and inspiring quotes all about America...
Funny Fourth of July Quotes
"Thanksgiving without turkey is like Fourth of July with no apple pie, or Friday with no two pizzas." –Joey from Friends
"He makes me melt like a popsicle on the Fourth of July." –Darla from The Little Rascals
"Laughter is America's most important export." –Walt Disney
"I'm just like my country—I'm young, scrappy, and hungry, and I am not throwing away my shot." – Alexander Hamilton from Hamilton
"Baby, you're a firework." – Katy Perry
Inspiring Fourth of July Quotes
"How important is it to recognize and celebrate our heroes and she-roes!" –Maya Angelou
"America is a tune. It must be sung together." –Gerald Stanley Lee
"America was built on courage, on imagination and an unbeatable determination to do the job at hand." –Harry S. Truman
"This nation will remain the land of the free only so long as it is the home of the brave." –Elmer Davis
"Ask not what your country can do for you--ask what you can do for your country." –John F. Kennedy
"Where liberty dwells, there is my country." –Benjamin Franklin
"Every American carries in his bloodstream the heritage of the malcontent and the dreamer."– Dorothy Fuldheim
"America is not just a country, but a way of life." –Anonymous
"America is another name for opportunity." –Ralph Waldo Emerson
"Hope is the bedrock of this nation; the belief that our destiny will not be written for us, but by us." –Barack Obama
"If you take advantage of everything America has to offer, there's nothing you can't accomplish." –Geraldine Ferraro
"Dreams can grow wild born inside an American child." –Phil Vassar
"What we need are critical lovers of America — patriots who express their faith in their country by working to improve it." –Hubert Humphrey
"In the truest sense, freedom cannot be bestowed; it must be achieved." –Franklin D. Roosevelt
"Patriotism is easy to understand in America. It means looking out for yourself by looking out for your country." –Calvin Coolidge
"Freedom lies in being bold." –Robert Frost
"America is hope. It is compassion. It is excellence. It is valor." –Paul Tsongas
"In America nobody says you have to keep the circumstances somebody else gives you." –Amy Tan
"America — it is a fabulous country, the only fabulous country; it is the only place where miracles not only happen, but where they happen all the time." –Thomas Wolfe
"I say to you that our goal is freedom, and I believe we are going to get there because however much she strays away from it, the goal of America is freedom." —Martin Luther King Jr.
"I believe in America because we have great dreams - and because we have the opportunity to make those dreams come true." –Wendell L. Wilkie
"Intellectually I know that America is no better than any other country; emotionally I know she is better than every other country." –Sinclair Lewis
"Freedom is never granted, it is earned by each generation." – Hillary Clinton
"In the face of impossible odds, people who love this country can change it." – Barack Obama
"Freedom is nothing but a chance to be better." – Albert Camus